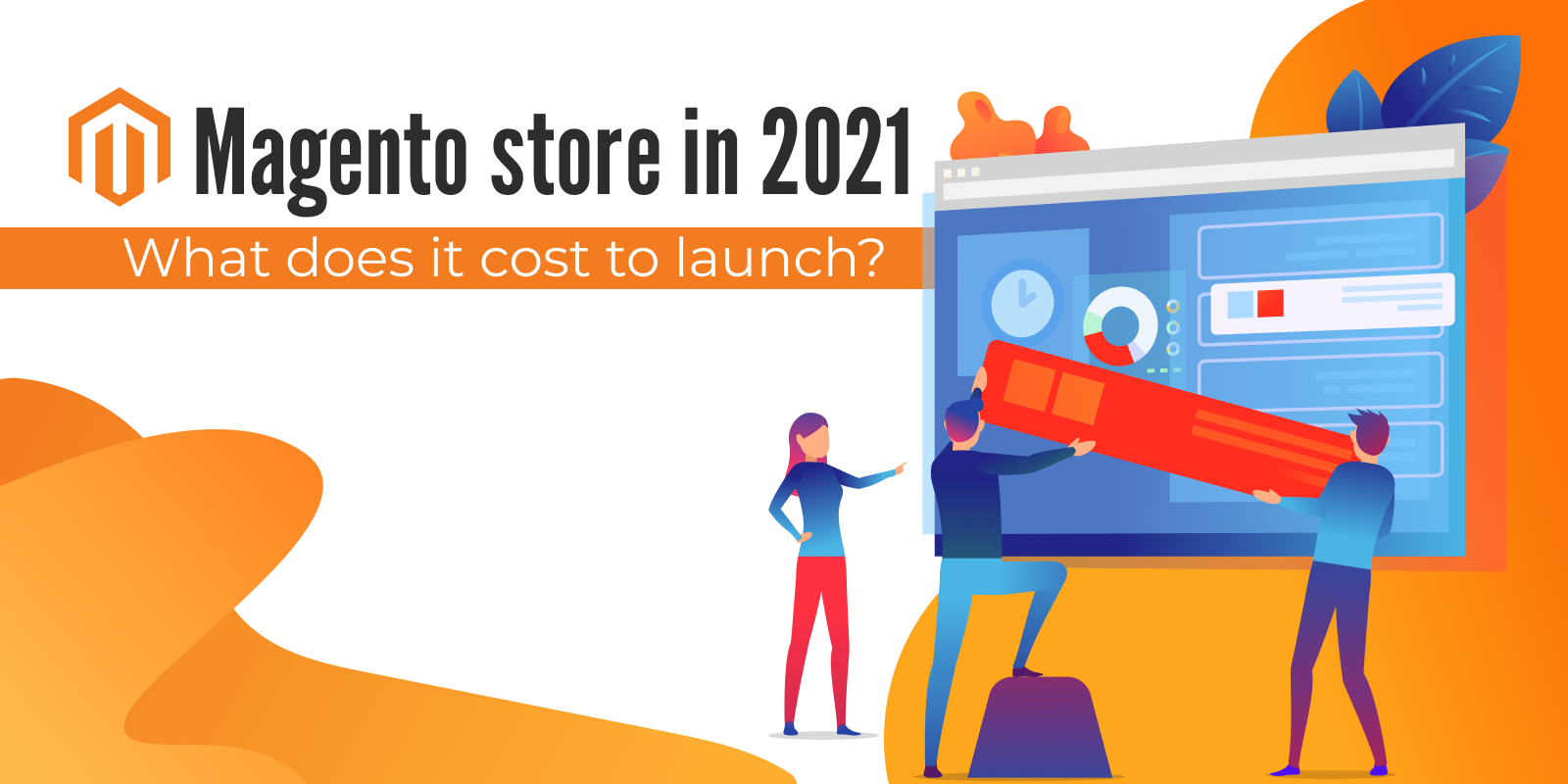 The Worldwide market of online shopping is expected to reach $1 trillion by 2025 and by the growth rate it will outpace other sales channels.
Customers' online spending in the first 10 months of 2021 will outpace spending of the whole 2019 year, according to Adobe Digital Economy Index report. In the first eight months of this year, they spent 9% more than during a similar period last year and 58% more than 2019. It is more than $541 billion in online shopping.
Global drift to online purchasing may spark an idea of becoming a retailer and launching your own online store. While searching for the perfect software platform for your store you will definitely encounter Magento.
This solution by Adobe gives you full freedom on modifying default store components in any way you find best. Simply read the comparison of Magento and Shopify, Magento and WooCommerce to get a better understanding.
So at the end of a day, you might be asking yourself how much would it cost to launch a Magento website? This article elaborates the answer to this question in detail.
It is not so easy to answer the question of how much does it cost to launch a Magento store. There are numerous checkpoints that will influence a final figure.
The complete list of expenses required to launch an internet store on Magento will be affected by how custom you want your store. The customization level will define the amount of work required to build desired functionality and design, integrations with third-party payment and shipment services, CRM systems, etc.
Given that Magento web store cost depends on many things, please keep in mind, that definitive numbers will not be available. All figures given in the article are rough estimations.
Magento software pricing
Adobe maintains two distinct Magento versions: Magento Open Source (former name Community Edition) and Adobe Commerce (formerly Magento Enterprise Edition).
Magento Open Source
Magento Open Source pricing is simple: it's completely free to use. Simply download it, deploy on your server, and use it without any costs required. The download link is available on Magento.com.
When using Magento Open Source it will be your responsibility to bear development, hosting and other things, you will not get support from Adobe. However, this may be a way to minimize your expenses, since you can use the services of any developer, any hoster, etc. for free.
Adobe Commerce
Adobe provides cost estimation for Adobe Commerce license by request. An annual license fee is based on the Gross Merchandise Value (GMV) and Average Order Value (AOV) of the store.
Adobe Commerce license price begins at $22,000 and reaches up to $190,000 per year. Here is a breakdown of these figures for the self-hosted Commerce edition:
| Store Gross Sales Revenue | Licence fee |
| --- | --- |
| < $1,000,000 | $22,000/year |
| $1,000,000 - $5,000,000 | $32,000/year |
| $5,000,000 - $10,000,000 | $49,000/year |
| $10,000,000 - $25,000,000 | $75,000/year |
| >$25,000,000 | $125,000/year |
Basically, the more revenue your brand brings, the lower rate to take care of the Adobe Commerce costs.
Domain name cost
A mandatory element for any online store is a domain name, that customers will use to access it in their web browsers.
Depending on the name you want the price may start from as low as $2.99/year to thousands of dollars.
For example, an apparel store would find the perfect domain name ending in clothing.net, that would cost $57,016.00. An even shorter clothing.co would require $194,888.00.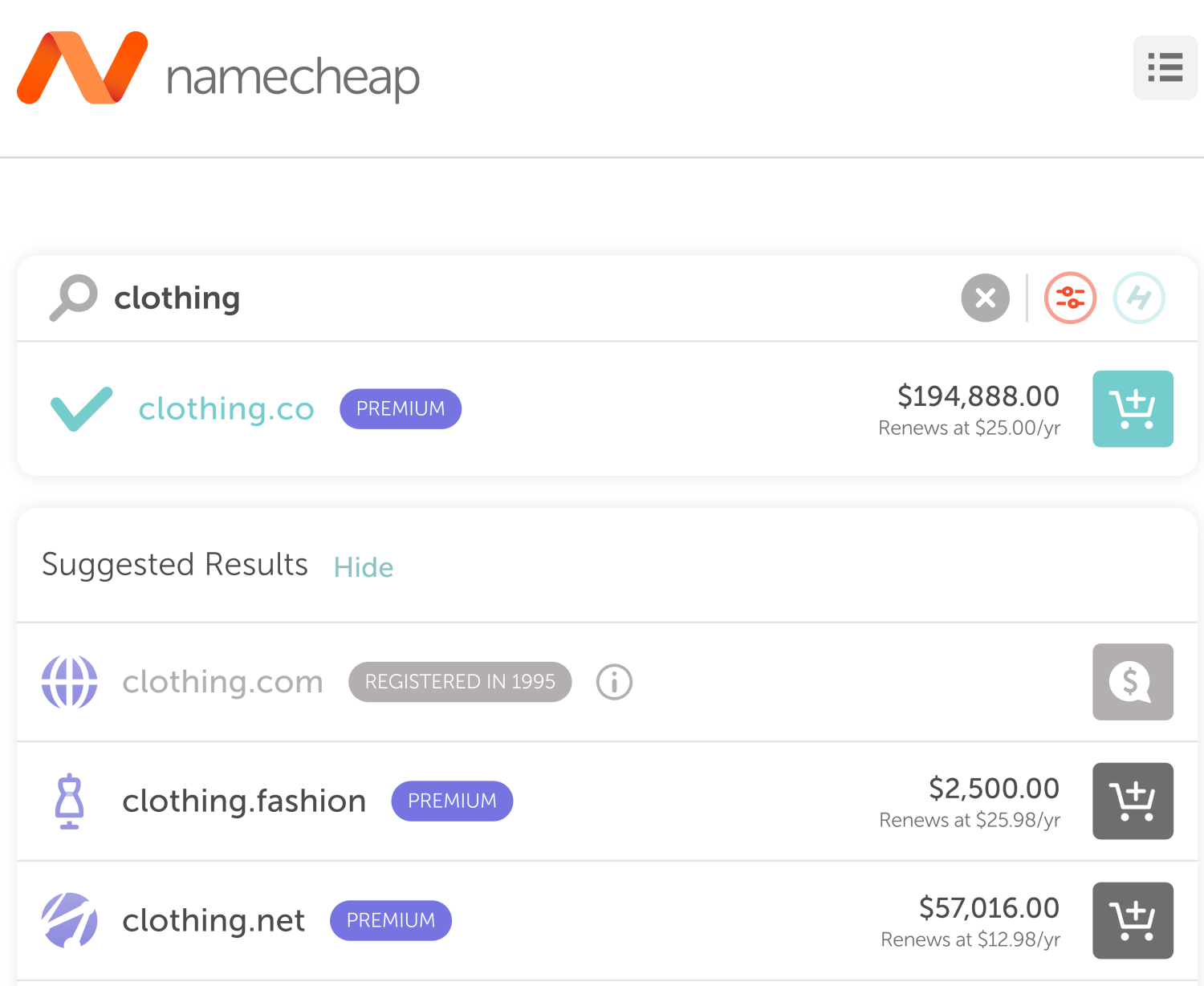 However, clothing.fashion domain name can be purchased for $2,500.00, and clothing.family will add up only $66 to the total bill for launching a Magento store.
Sometimes one domain name is not enough since a single Magento instance allows adding several stores with individual domain names. It can be useful when the store owner wants to diversify the product catalog and display it on corresponding websites.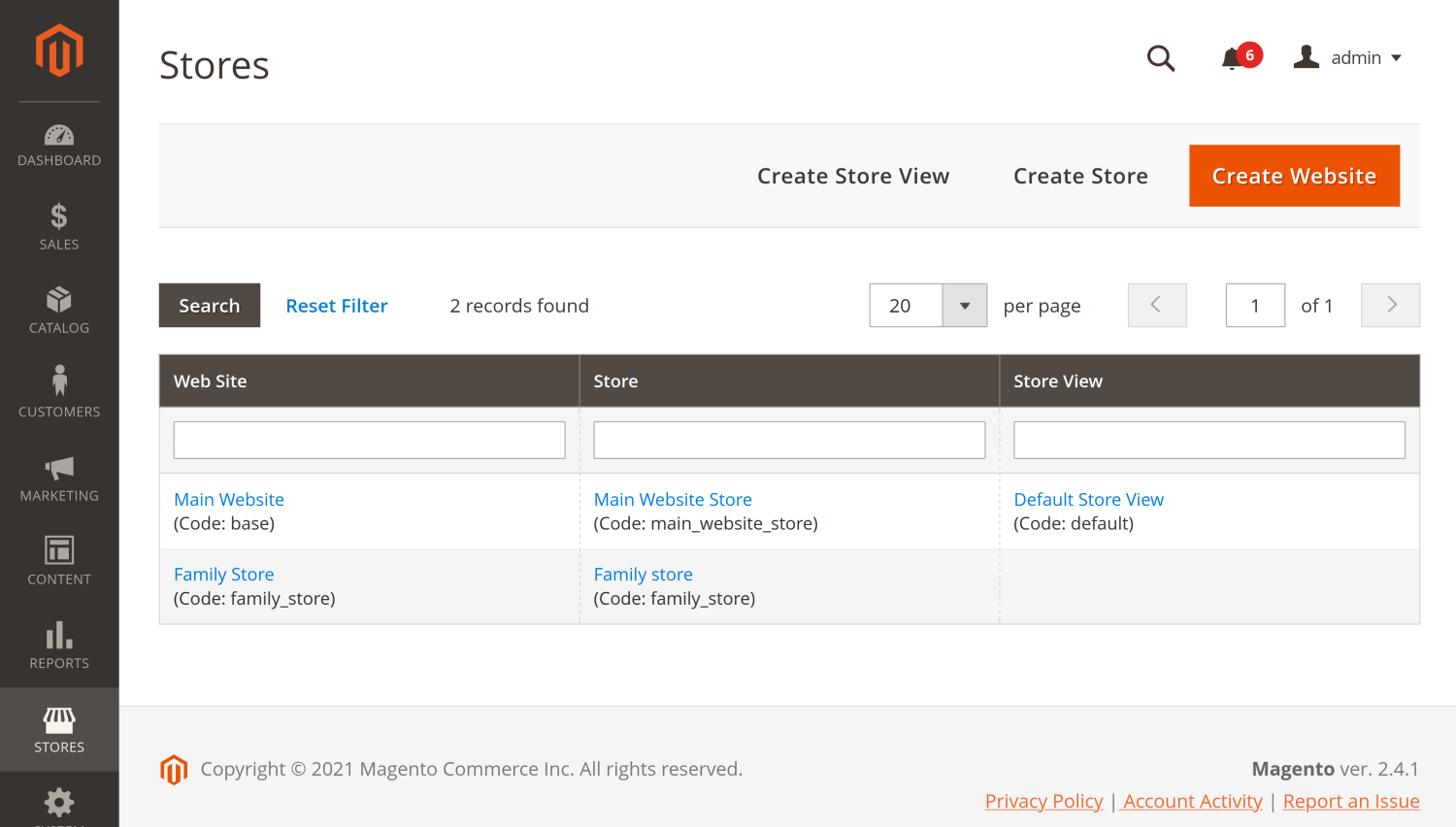 For example, a store that sells clothing may launch specific sites for family clothing, and clothing for sports.
Hosting services pricing
Hosting providers mostly sell their services offering hardware of different productivity. Yet Adobe gives definitive requirements for Magento server software, but the Magento server hardware requirements are described flexibly.
You can order a hosting plan starting at $10/month, and get a server with 1 GB RAM and 1 core processor. The server with such parameters may be enough for deployment and launch. A growing store may soon require a more powerful hosting server.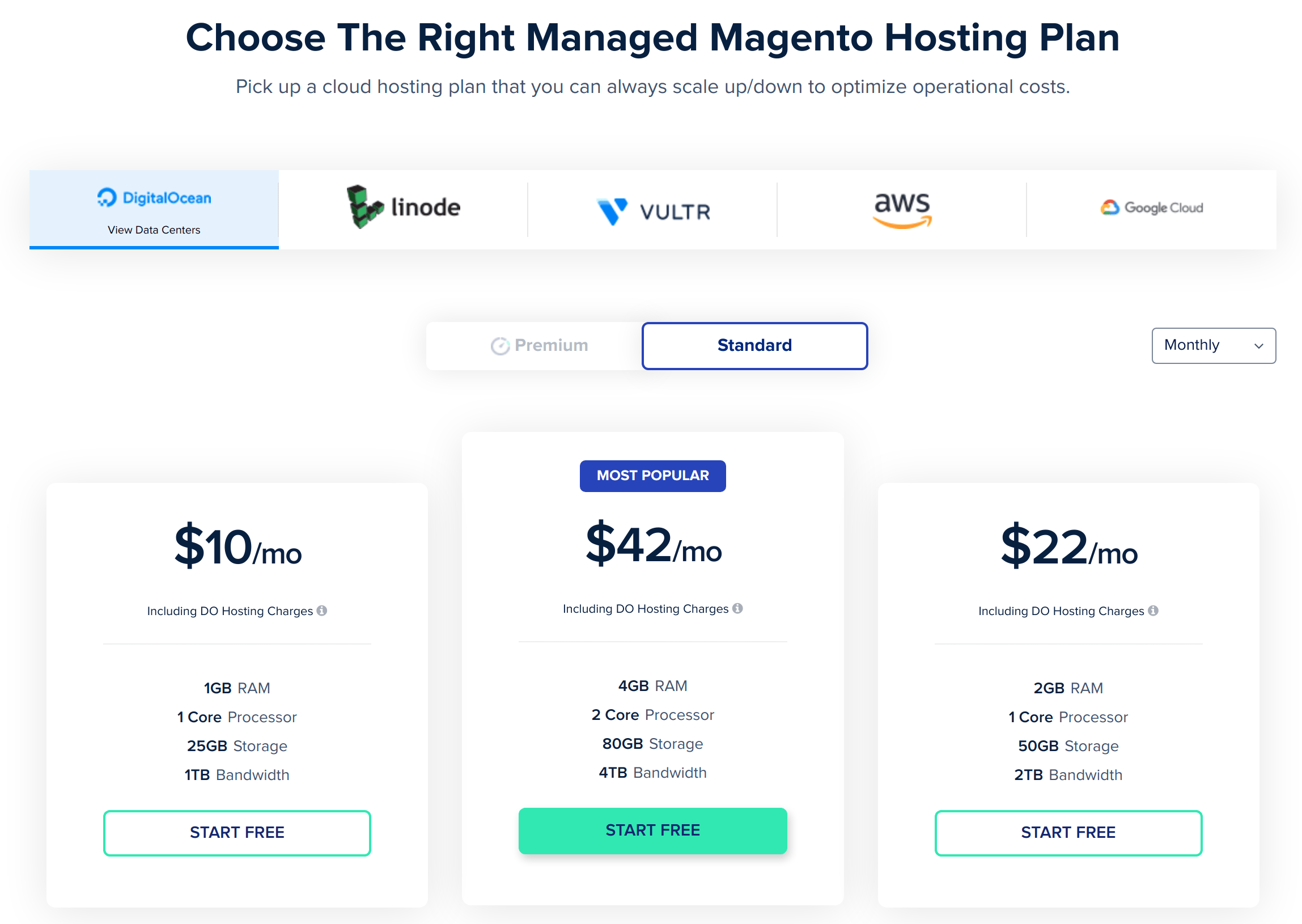 For example, hosting on Amazon Web Services may cost $36.51/month for a 2GB RAM 2 core server and up to $705.18/month for 64GB RAM 16 core server. Google Cloud offers server with 1.7 GB RAM 1 core CPU for $33.18/months and up to $721.94/month for a 60GB RAM 16 core server.
Store owners using Adobe Commerce don't have to worry regarding hosting services since this Magento version includes cloud hosting.
How to determine the hardware configuration of host server for your Magento
According to a Magento hosting provider Sonassi, a standard Magento demo store delivers 230 unique visitors per GHz, per hour. For a real production store reduce this figure to 115 uniques per GHz, per hour. A slow Magento store due to poor optimization or heavy template can degrade its performance to 50 unique visitors per GHz, per hour.
Estimate the number of CPU cores
Get a brief estimation of required hosting CPU configuration by using the table below:
| Chassis | Peak Visitors/Hour | Sustained Visitors/Day |
| --- | --- | --- |
| 8-Core | 1,610 | 4,025 |
| 16-Core | 4,186 | 10,465 |
| 28-Core | 4,784 | 11,960 |
| 32-Core | 5,336 | 13,340 |
| 40-Core | 6,900 | 17,250 |
| 56-Core | 8,372 | 20,930 |
| 64-Core | 9,568 | 23,920 |
| 384-Core | 48,576 | 121,440 |
Basically, for your store to have a fast loading speed the server CPU should have high clock speed, and high concurrent visitors support requires lots of cores.
Estimate the RAM size
The RAM size highly depends on the server CPU. A brief estimation of the required RAM size can be done with the table below:
| CPU Cores | Required RAM (GB) | Best Allocation (GB) |
| --- | --- | --- |
| 8-Core | 14.25 | 16 |
| 16-Core | 20.25 | 32 |
| 24-Core | 26.25 | 32 |
| 32-Core | 32.25 | 48 |
| 48-Core | 44.25 | 48 |
| 64-Core | 56.25 | 64 |
| 72-Core | 62.25 | 64 |
| 80-Core | 68.25 | 128 |
| 96-Core | 80.25 | 128 |
| 120-Core | 98.25 | 128 |
| 144-Core | 116.25 | 128 |
| 160-Core | 128.25 | 192 |
SSL
Access to the websites using HTTPS has become a de-facto standard, and for a Magento store to work with this protocol a Secure Sockets Layer (SSL) certificate is required. Self-signed SSL certificates are not supported.
You can buy an SSL certificate separately from a domain name registrar, in which case it will cost about $5.99/year.
Alternatively, your the SSL certificate can be a part of the Magento-aimed hosting plan. It is included even in the most affordable hosting plans.

Theme design pricing
Magento offers a default prebuilt frontend theme called Luma. It is free to use and is fully opened for customization.
The most affordable way for your store frontend to stand out from the competitors is to use a third-party prebuilt theme. You can download it on the official Magento Marketplace, and such template stores as Template Monster, and ThemeForest. They offer themes for a price as low as $35, but mostly templates cost between $70-$200.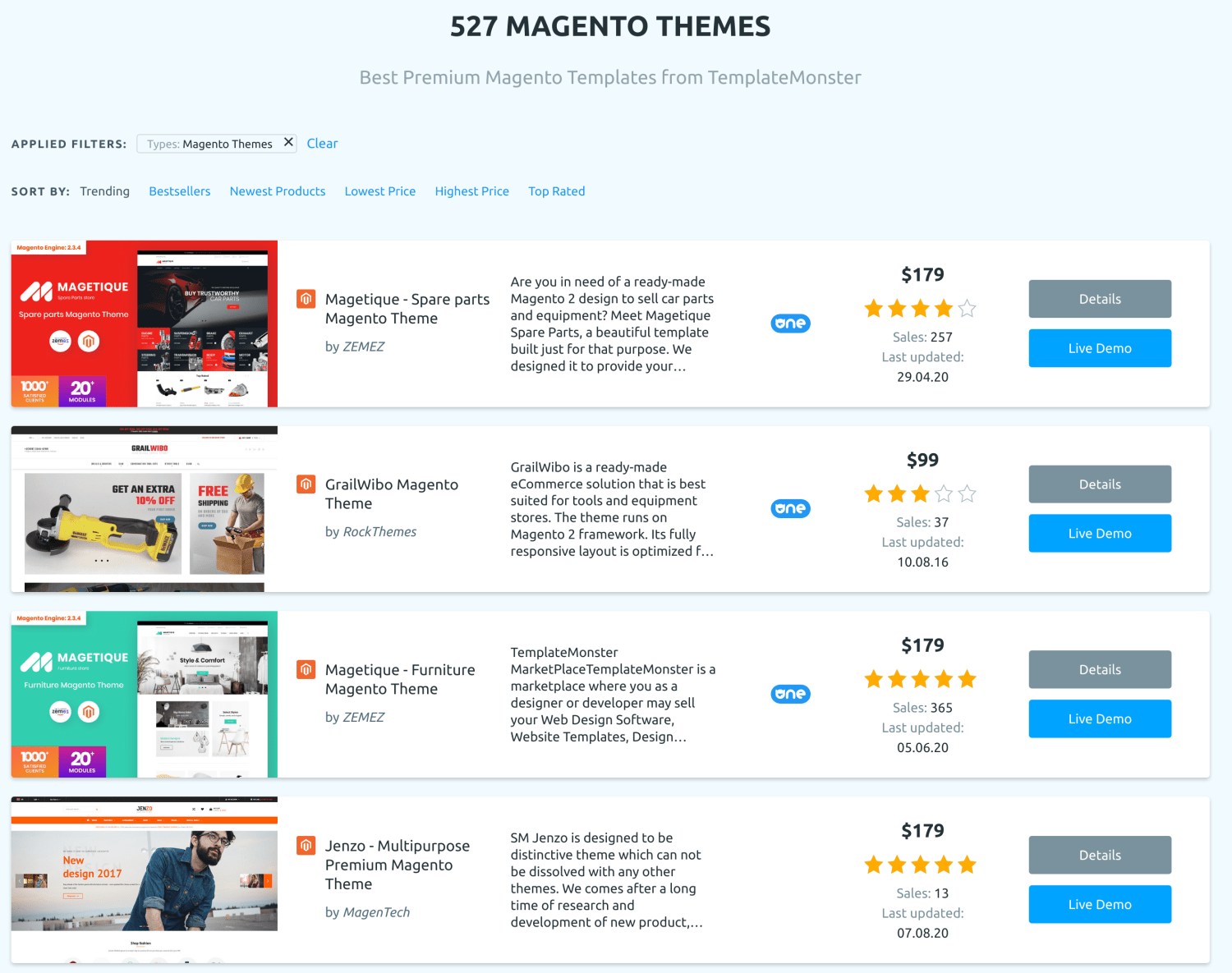 Creating a custom theme will cost significantly more, and the final price will depend on the customization level. Typically, to get a fully custom design of the store takes at least a month for a web designer or 160 hours. Multiply that number by his hourly rate, which is $25 to $40 per hour to get the cost of a custom design template.
Magento functionality development cost
When launching a Magento store you will definitely need to adjust some settings, or functionality to your specific needs. Such a task will require a developer. You basically have three options to hire for development: a freelancer, an agency, or an in-house developer.
In any case, even when you hire an agency, your expenses will typically be calculated as an hourly rate multiplied by the required time for a task. Magento developer hourly rates greatly vary by region: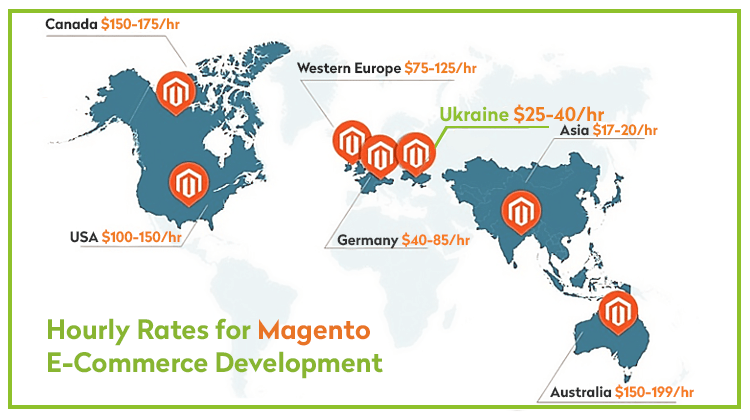 In case you want a complex and custom Magento store, the best option is an in-house team of developers. That way you will get the ability to tightly control the development process. Be ready to prepare a significant budget for this team.
For a minimal budget a freelancer may be the best option. However, a freelance developer may not be available when you need him.
An outsource development agency costs less than an in-house developer team but is more controllable than a freelancer.
Magento extension cost
In many cases additional functionality you might require in your Magento store can be procured by third-party extensions. With the help of modules, Magento Open Source edition can get functions that are built-in into Adobe Commerce.
For example, built-in Google Tag Manager support is provided in Adobe Commerce only, however, stores on Magento Open Source can get it with Google Tag Manager extension.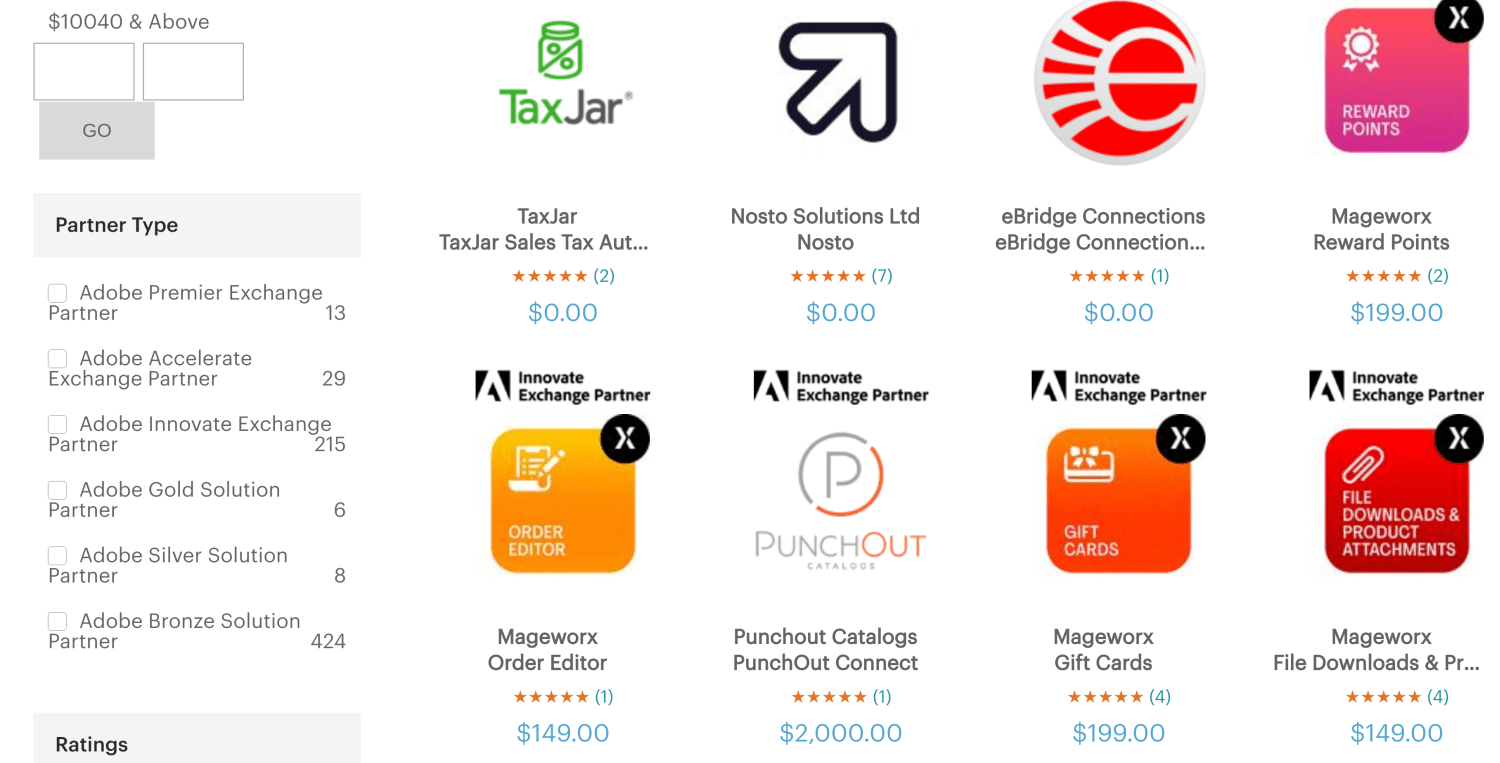 There are some free extensions for Magento, but mostly they cost $100-300. The price depends on the extension functionality and features, some modules may cost thousands of dollars.
In addition to purchasing readily available extensions you can order the development of a new one specifically for your needs. The price for a such module will be a result of your negotiations with the developer.
SEO cost
Search engine optimization is optional, however, it is highly recommended as it is important for business success. Magento offers some built-in tools for basic SEO, but to achieve much better positions in search engine indexes you will definitely need a thorough and complex SEO strategy. Development and execution of such SEO strategy may require services of the appropriate specialists.
Hourly rates of a SEO specialist usually fall in the $50-$250 range.
You should aim for several months of SEO work since the process is not fast. The single step of keyword research may take up to 30 hours depending on the project.
Depending on the deal terms with an SEO specialist or agency, expenses on SEO services may be accompanied by payments for advertisements in Google Ads, Facebook Ads, other promotional channels. A pay-per-click campaign on Google Ads may cost from $350 to $5000 per month.
What you can expect for a specific budget
On average, the starting price for launching a store on Magento Open Source begins at $50,000, and $100,000-$250,000 for Adobe Commerce.
If you simply want to know what you can expect for a certain budget, here is the breakdown below:
Less than $20,000
For merchants that want a Magento store with the lowest possible budget and under $20,000,the best option would be to use basic Magento.
A fully working basic Magento website can be obtained using a managed auto-scalable infrastructure hosting service. It is deployment-ready, usually provides DEV/STAGE instances, and is auto-scalable.
$20,000 - $50,000
Such a budget means that you will receive a store within a month, and such a short timeframe is explained by a minimal customization level. It's primarily basic tweaking of Luma theme and default backend adjustments, assistance with deployment.
$50,000 - $75,000
With such budget your store will be worked on 1-2 months to give you custom frontend theme, some additional features with installed prebuilt extensions. The resulting store will look and feel unique with this budget.
$75,000 - $150,000
This budget opens the next level of customization, which takes 2-4 months, during which the store is finely tuned to your needs. You can expect more custom look, custom features that streamline and facilitate your business processes, SEO services, integration with third-party sysmems.
$150,000 and more
With such budget you can expect a fully customized store, which was thoroughly optimized for fast loading. The store will provide customers with a store-specific functionality, for example, individual measurements, product selection, etc. Since custom development is hard, it may take several months to bring such a store to a live state.
How to minimize costs
For a businessman who wants to launch his first store on Magento a budget limitation may be crucial. In this case it is worth determining costs that can be avoided, and expenses that can be postponed.
Magento and extensions
The most significant cost saving at start can be archieved by using free Magento Open Source instead of the paid Adobe Commerce. You will be able to migrate from free to paid Magento version in the future.
Opting with Magento Open Source instead of Adobe Commerce you will not have some features. Fill the functionality gaps by purchasing third-party prebuilt extensions.
Hosting
Your fresh Magento store will probably require some time to get the desired sales volume. Choose the hosting plan according to the current load of your store. You can migrate to the top-tier server plans when you'll have a budget.
SEO
SEO is vital for e-commerce business, but it may require several months before any significant results. At the beginning you may want to use other sales channels that may bring you more benefits than searches in Google.
Summary
The exact quote for launching Magento store depends on many variables and may differ even for similar stores as they may have different development strategies. The cost of Magento store is a reflection of how you see your business objectives and how you want to accomplish them.
On the off chance you stick to Magento basic capabilities, maintain it by yourself, and utilize free of charge themes and modules the cost of launching and running of your store may be under $1000.
However, a typical Magento store requires some level of customization and improvement. In this case the starting point is around $20,000.
The most ideal approach to sort out how much launching a Magento store will cost to you is to contact a Magento development agency with a request for an estimation.