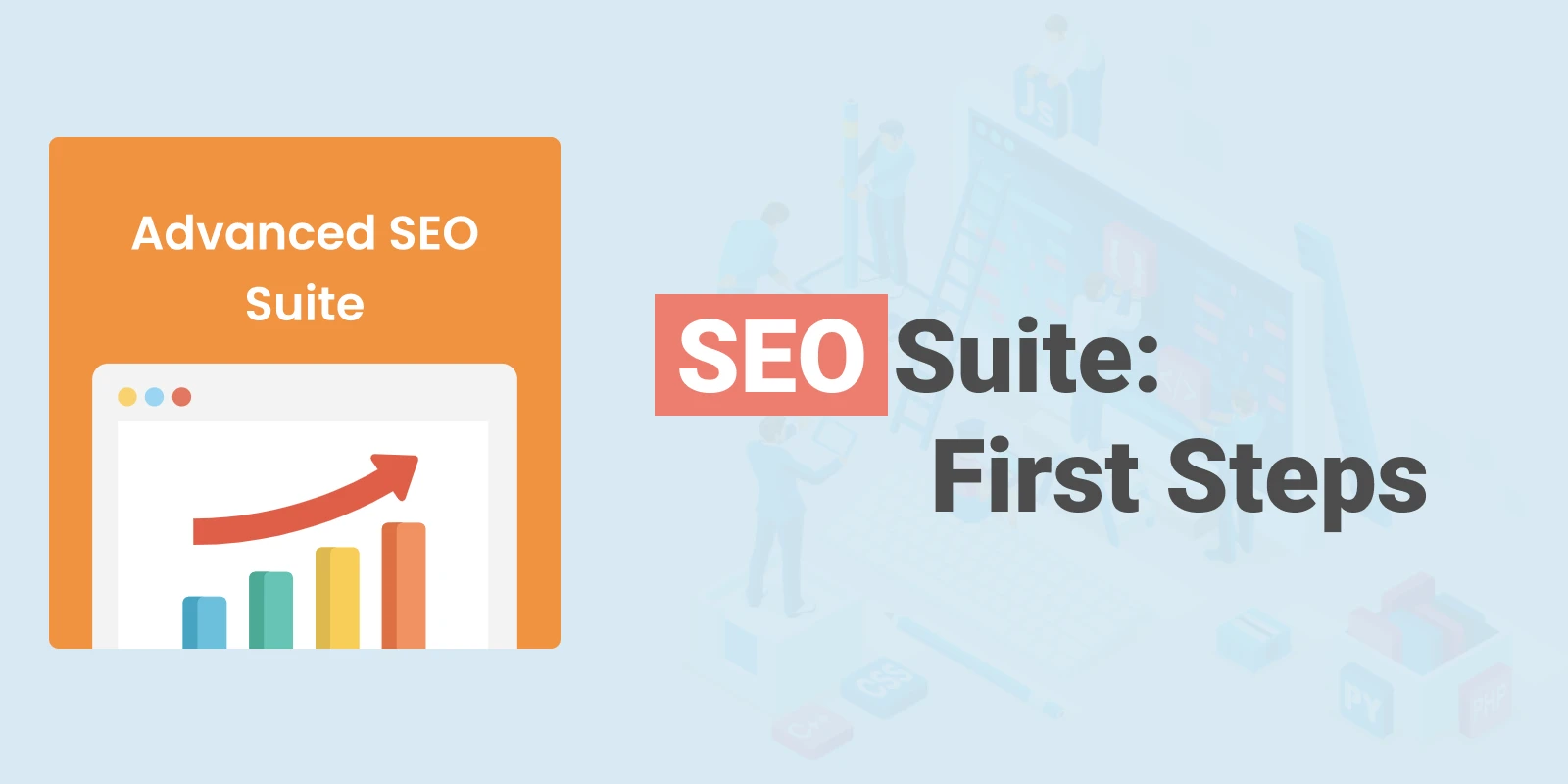 Advanced SEO Suite is our extension for Magento stores. We're proud to say it's possibly the best SEO suite for the platform. That said, merchants often add it to their sites and ask us: "What is the first step in SEO settings I should take? How do I achieve the best rankings?"
SEO is a complicated process that often requires years of experience to master. However, our module provides many common methods and approaches right out-of-the-box. In this article, we will cover the first steps you should take after installing Advanced SEO Suite. Most merchants should find them useful and applicable.
After installation, by default, our extension only enables functions that are safe for your current SEO. You can set other ones up manually, though. For example, the module improves the XML sitemap automatically. However, if you would like to change meta tags, you need to create your own rules for that.
Here's what you should do right after the installation.
1. Check Your Meta Tags. Improve Them if Necessary
As usual with SEO, first steps you should make are meta tag changes. However, you can't just copy and paste them. If you aim to achieve high search rankings, you should avoid duplicate tags and make sure their length is just right.
If you've already had the tags filled in before and are unsure if you need to change anything, you can check your tags' health with any SEO tool. The most popular tools are SEMrush, Neil Patel's SEO Analyzer, or Ahrefs' Site Audit. Alternatively, you can check the extension's SEO toolbar on any page: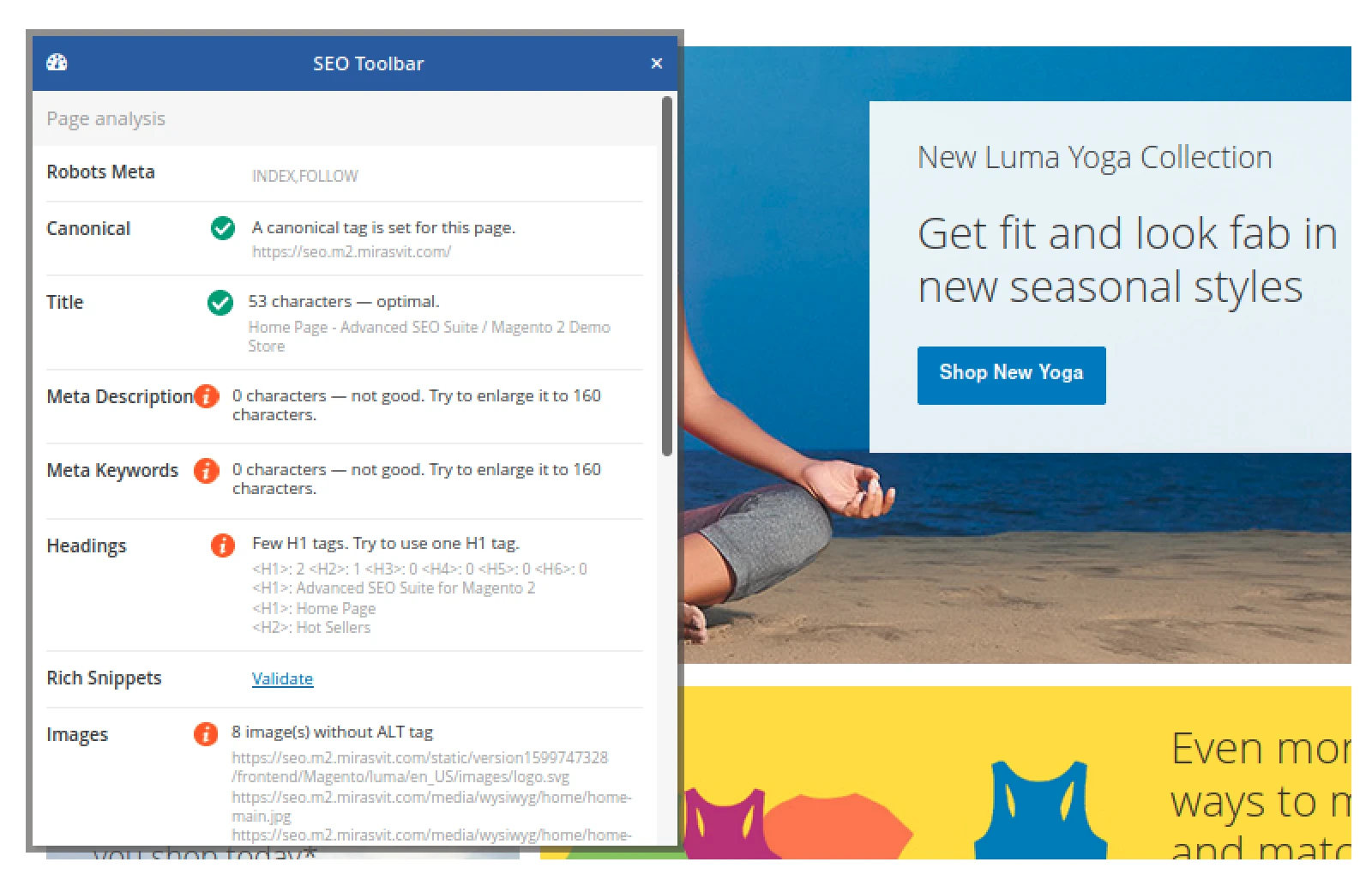 Should these tools detect any issues, you can quickly resolve them with our module. You can also use the SEO Suite to fill in meta tags from scratch.
The extension fills in these pieces of content:
Meta title
Meta keywords
Meta description
H1 tag
SEO description
You can set them up for:
Product pages
Category pages
CMS pages
Layered navigation
It takes information from templates on the Template Manager page. You can add a new template by clicking Add Template on the top right or edit an existing one by clicking Select on the right: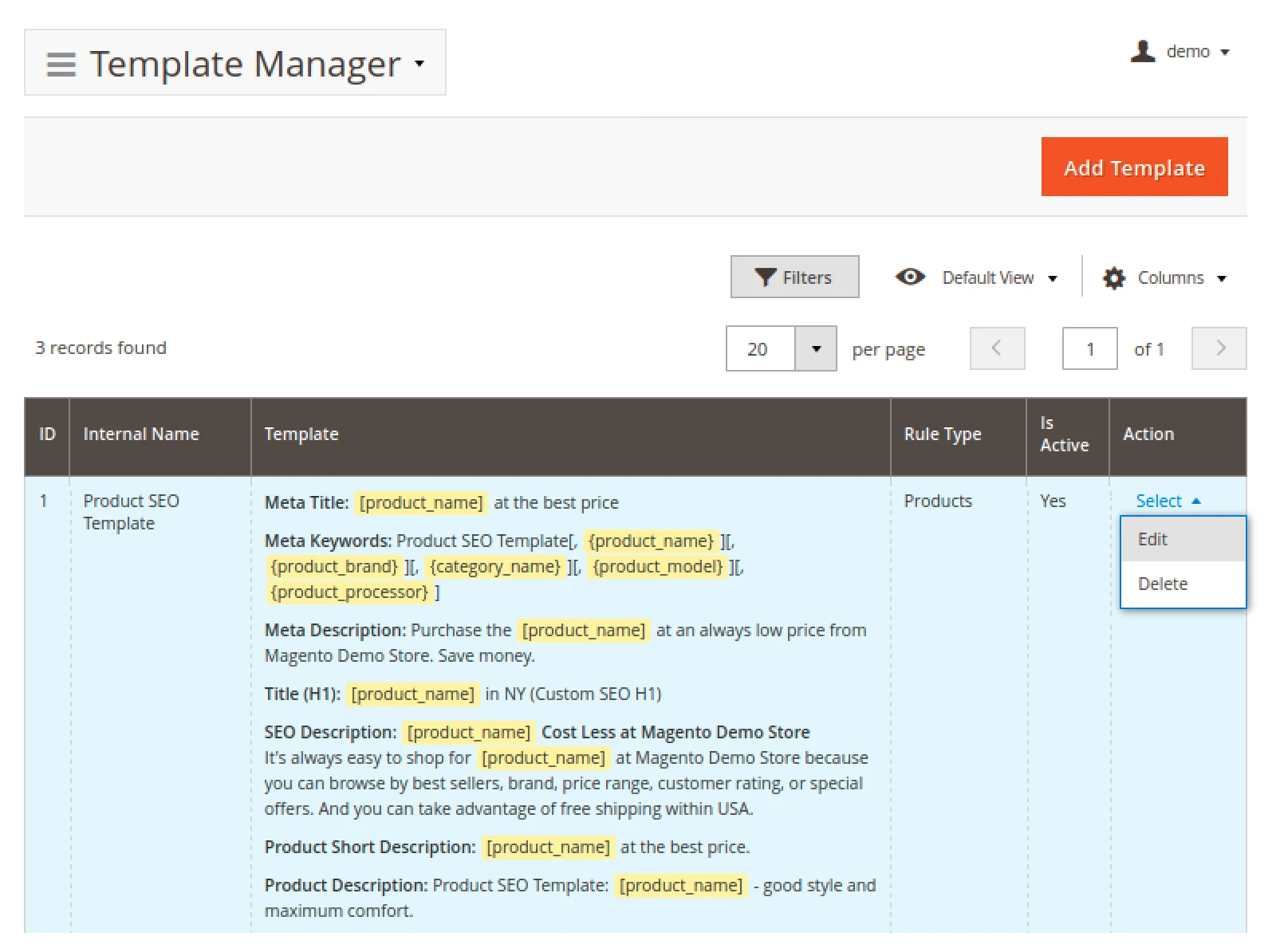 It also supports variables. For instance, if you type [category_name], the module will display the relevant category's name on each page instead of the variable. You can review the entire list of variables by either clicking on template field or checking here: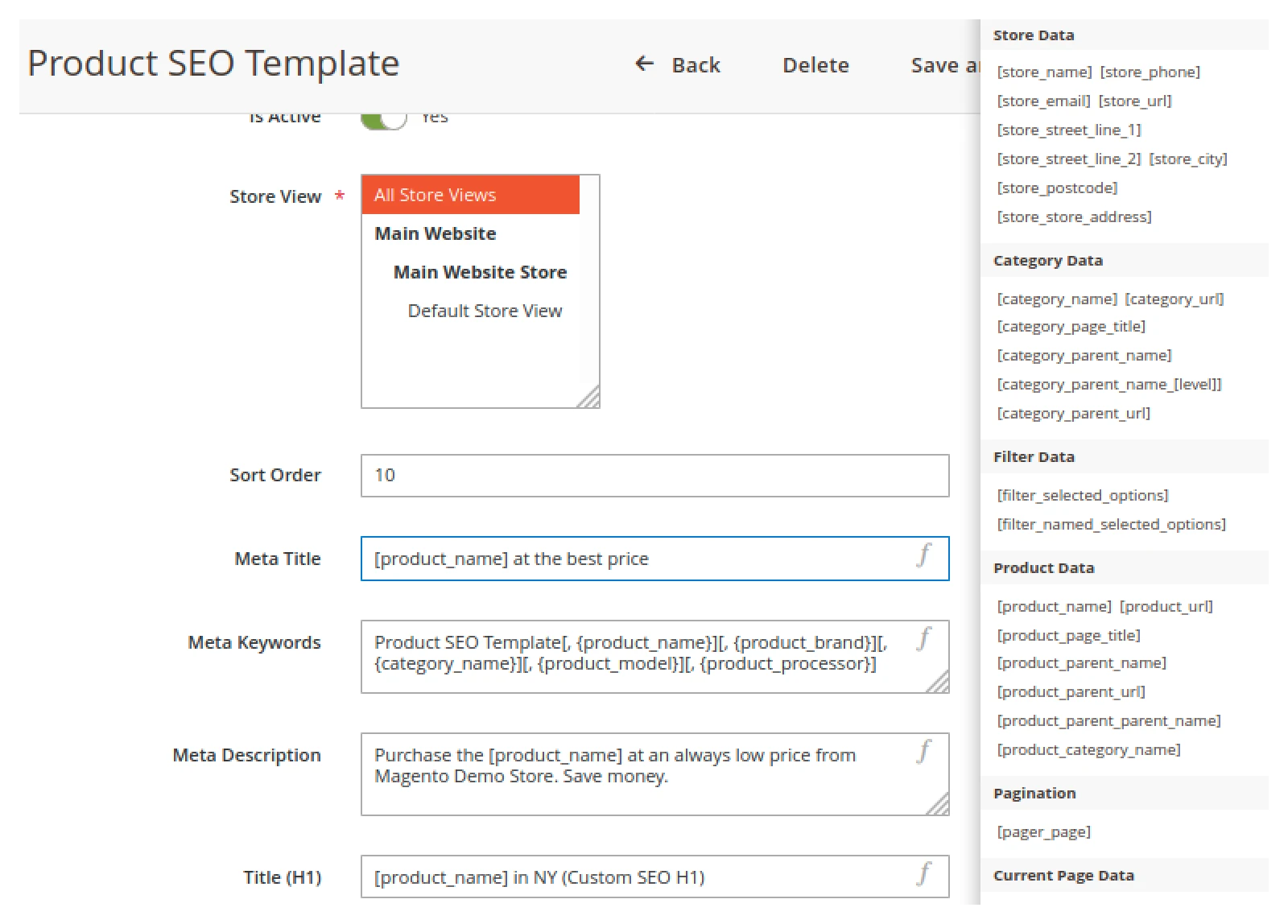 You don't have to add templates to every single page, as they support standard Magento conditions. The way they operate is simple: you can specify any category or product conditions, and the template will only work where they are met.

Apart from that, you can assign a sort order to a template. If more than one template fits a specific page, Advanced SEO Suite will use the template with the highest order number.
2. Enable Rich Snippets and Opengraph
Rich snippets are the next logical step in the content description. Meta tags and meta keywords alone won't cut it in 2020 because snippets add much more: reviews, product availability, shipping methods, etc. Search engines display them right on the results page:

If you add rich snippets, people will get a better idea of what your store is selling since the site will feel more professional and intuitive, and they'll be more likely to click on the URL. You can set them up in SEO Rich Snippets and Opengraph section of the Configuration page: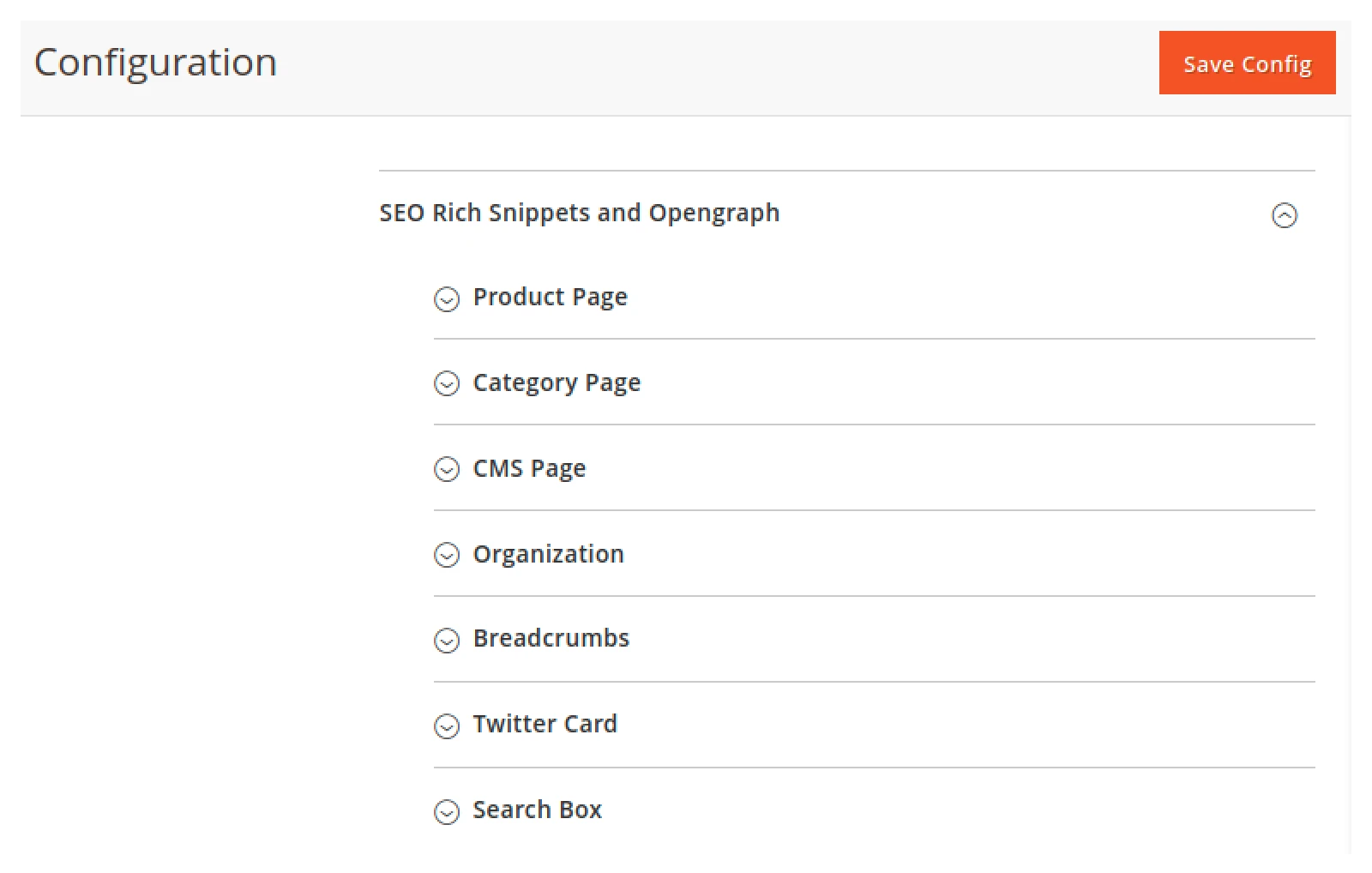 You can enable the snippets for product pages and category pages:


The following product values can be tweaked:
Description
Image
Availability
Payment methods
Delivery methods
Product category
Manufacturer part number
Brand attribute
Model attribute
Color attribute
Weight unit
Dimensions
Product conditions
Individual reviews
GTIN attributes
You can enable product offers for CMS pages.
It's also possible to add store information to rich snippets in the Organization tab: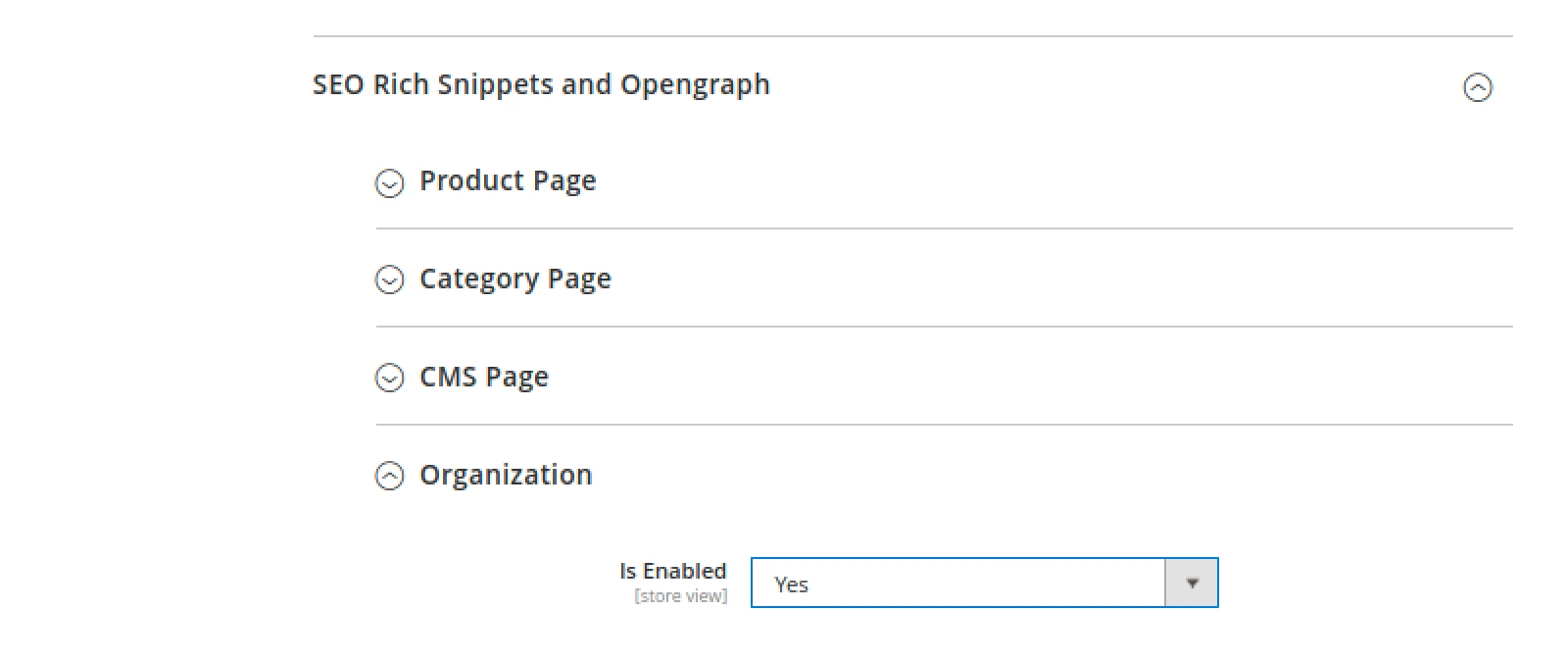 Advanced SEO module supports the following:
Store name
Country, region, address, and postal code
Email, phone, and fax numbers
YouTube, Facebook, LinkedIn, Instagram, Pinterest, Tumblr, and Twitter accounts
Finally, you can turn on breadcrumbs in rich snippets in the Breadcrumbs tab: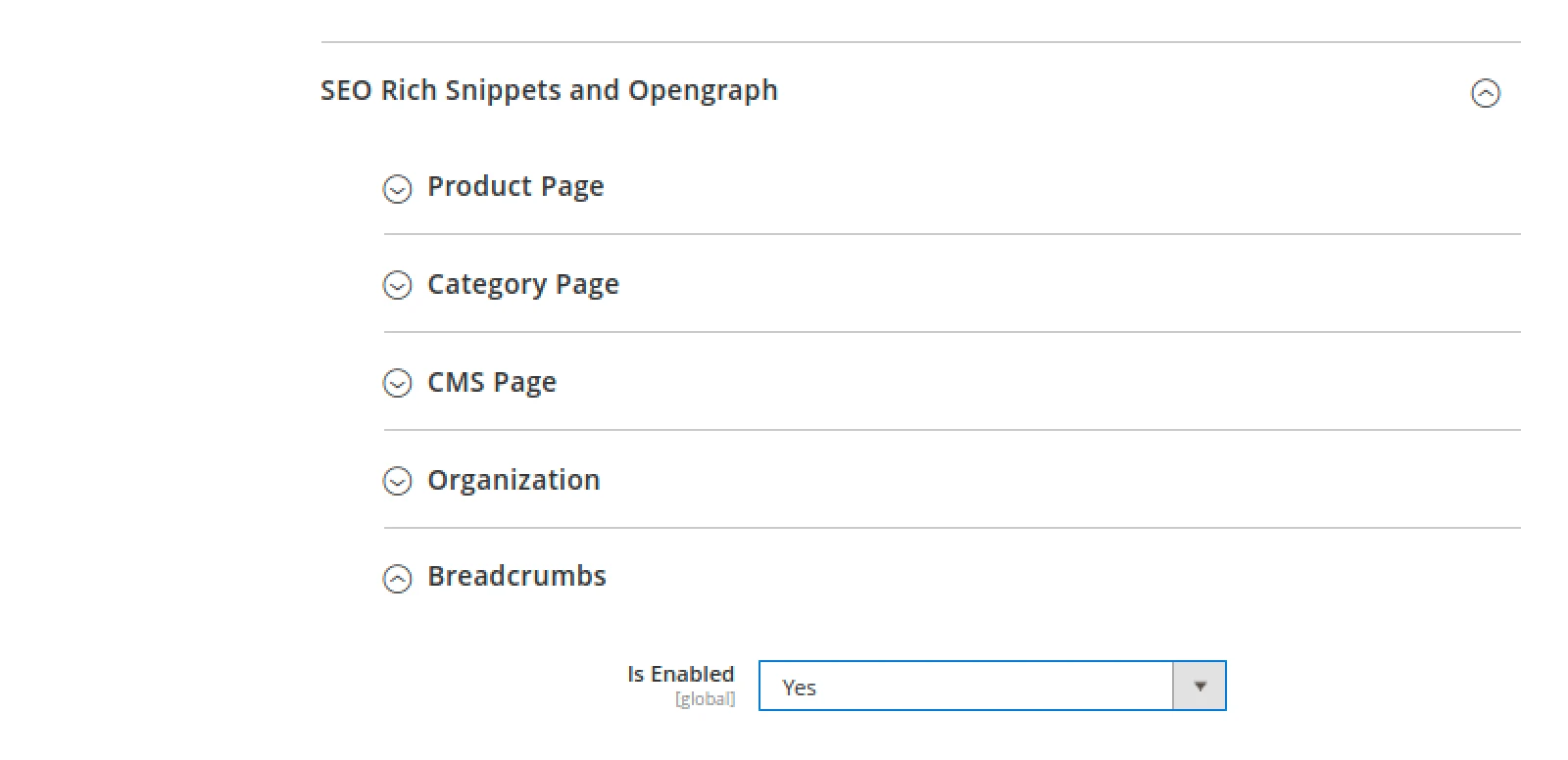 Keep in mind that it takes time for rich snippets to appear in search results. Not only that, search engines will have to reindex product and category pages before they can display them. In the meantime, you should use Google's Structured Data Testing Tool to check for any issues. The extension's SEO toolbar has a direct link to it as well: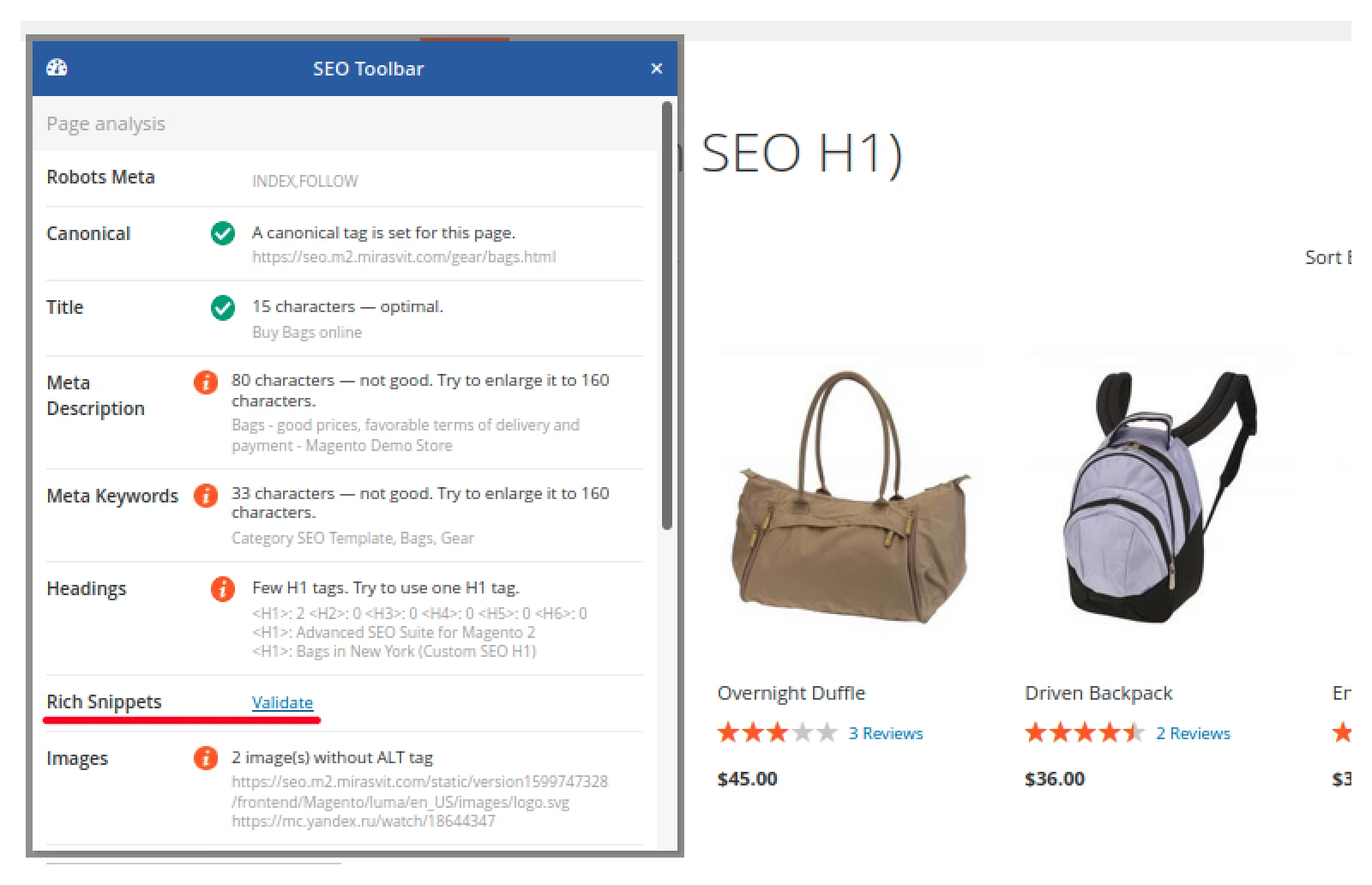 Opengraph is a protocol that helps Facebook to structure URL previews more coherently. Most importantly, it lets you set a specific preview image, a title, and a description: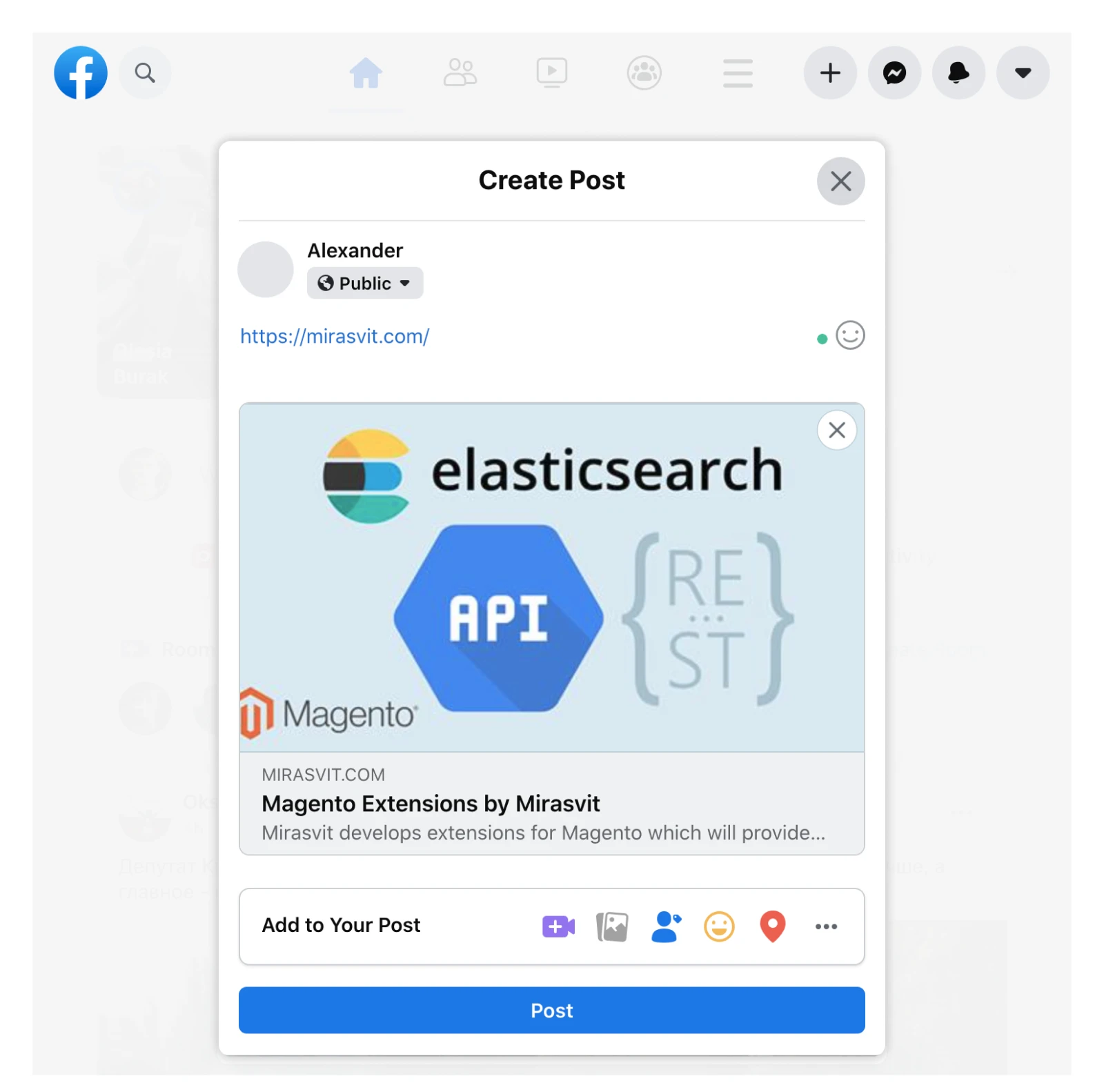 A well-structured preview will entice more people to visit your site and help you grow organic backlinks. You can enable it for Category pages and CMS pages: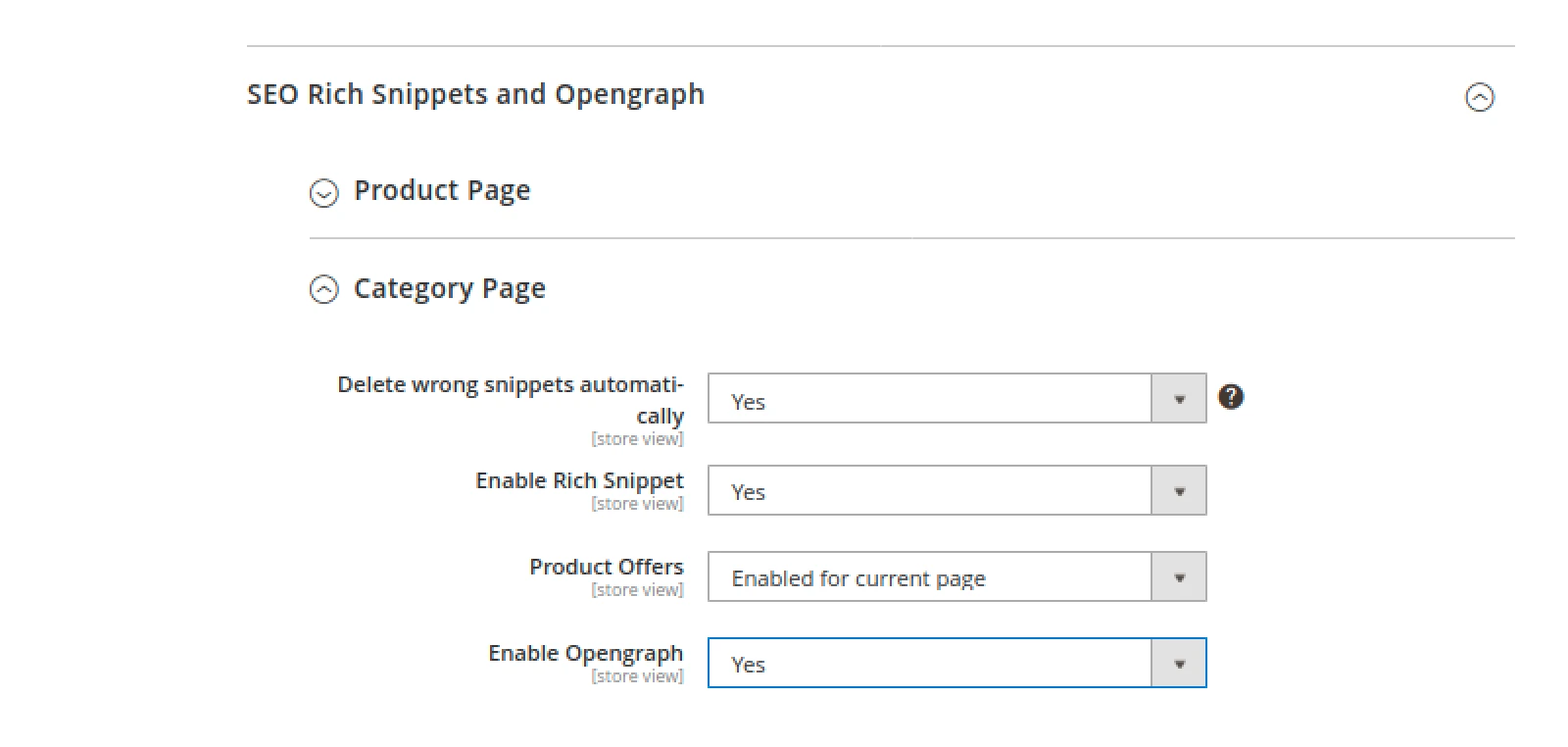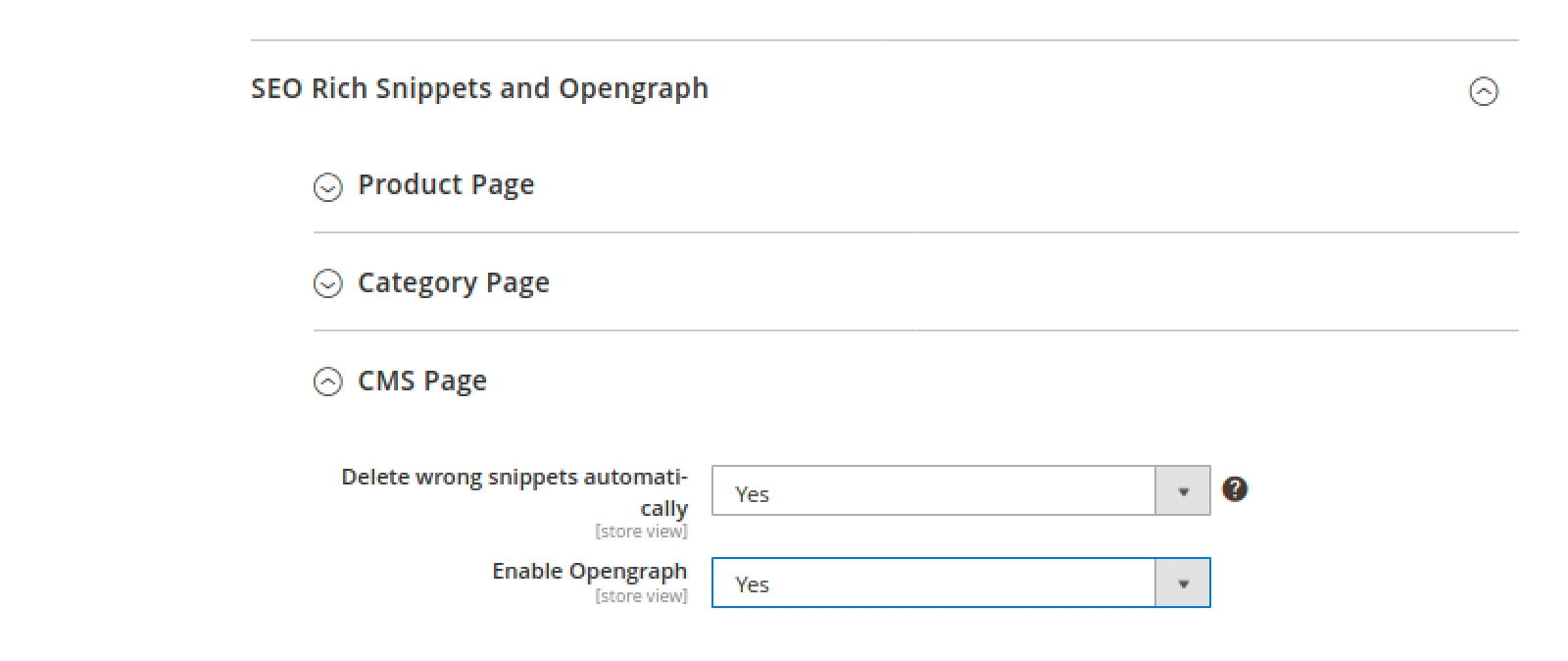 Once you've enabled it, you should test it with Facebook Debugger.
3. Set up Internal Cross-linking
Internal cross-linking is the process of adding links that lead to your site's other pages. It should be one of the first steps in SEO ehancement because it helps both search engines and visitors to better understand its structure. You can also use internal links to drive traffic to more valuable pages or direct visitors to something that might be more relevant for them.
Setting them up is simple. Go to the Autolinks menu, click on Add New Link in the top right, then choose any keyword and URL. The SEO Suite will do everything for you:

Alternatively, you can import cross-linking rules with a CSV file.
Note that your links must not look robotic: neither search engines nor live visitors like that. That's why you might want to consider adjusting the way cross-linking works in the Configuration menu's Auto Links tab. There you can:
Choose which types of pages links are added to
Exclude tags and pages from being linked
Specify paths to blocks you want to add links to
Set an upper link limit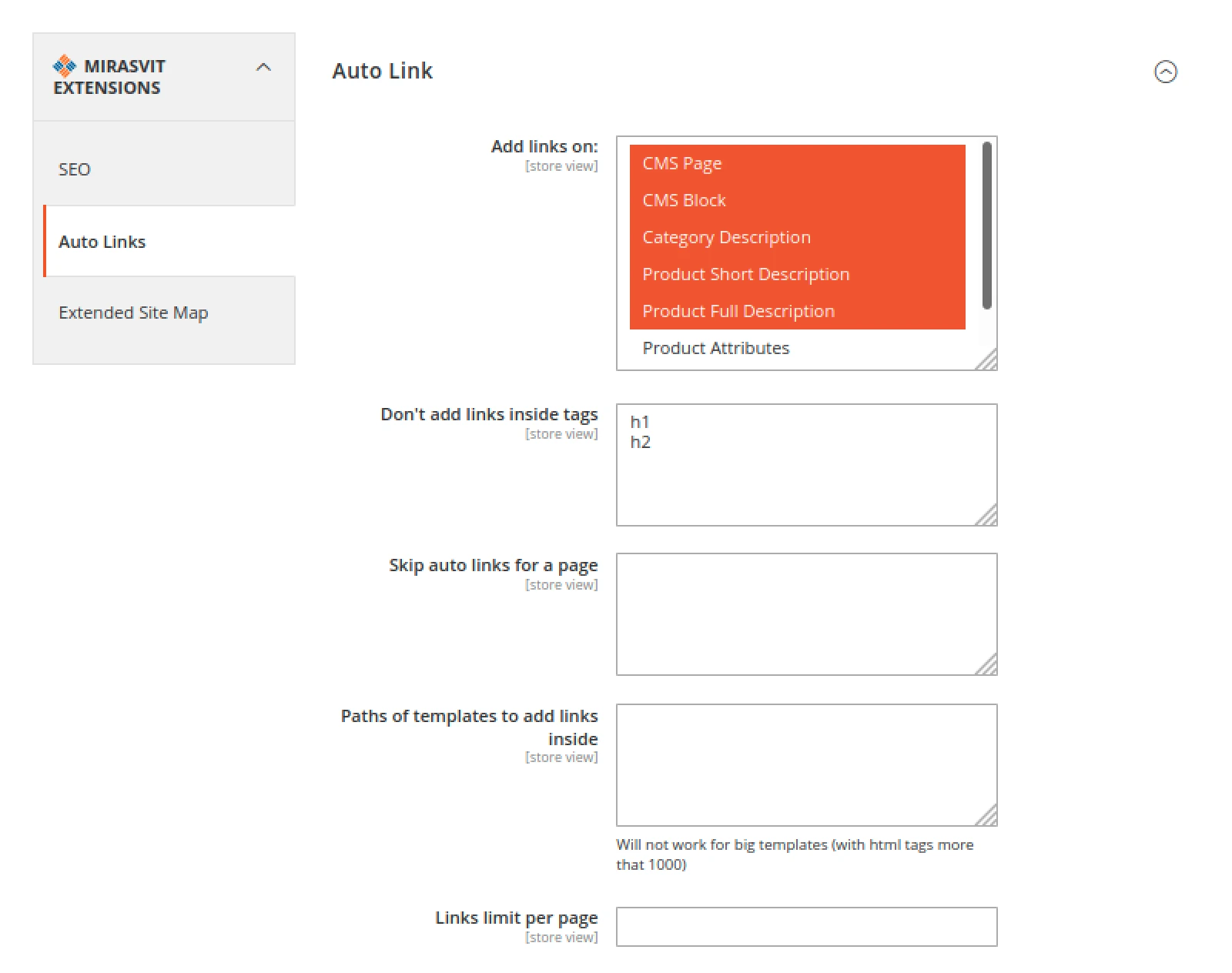 4. Set up Redirects
Correct redirects are vital for deprecating duplicate content and resolving 404 errors. Search engines hate both of those. Before you get to fixing, gather the list of 404 errors on your site in Google Search Console's Index Coverage tab. Once you do that, go to the Redirects menu in Advanced SEO extension and add redirects accordingly or import them with a CSV file:

You should add new redirects for any pages or products you delete in the future.
Summary
These are the first steps you should take after installing Mirasvit Advanced SEO Suite for Magento. To sum it up, you should set up templates for meta tags and meta keywords if you don't have any or there are issues with your existing tags. Adding rich snippets and Opengraph will make your site look more professional and more relevant to visitors. We always recommend internal cross-linking so that search engines and visitors can better understand your site. If you have duplicate content you need to deprecate or there are 404 errors, you should use redirects in order to fix that. Hopefully you'll see why it's the best SEO suite after following these recommendations.
Is anything unclear? What would you like to set up first? Please let me know in the comments!