What platform to choose for your online business?
Choosing one of best online eCommerce platform is a crucial and very important decision that needs to be taken if one owns an online business. The online eCommerce platform should be empowering and provides you with all the necessary management tools and things that are needed to run the business in an efficient way.
Why Magneto e-Commerce Platform is Choice Number 1?
Magneto platform is an e-commerce platform that offers unique, flexible and scalable e-commerce solutions to its valuable owners that not only provide them web presence but it also helps them to boost their business growth and success. Some of the highlights of the great aspects related to Magneto are:
Part of Global Commerce Leader i.e. E-Bay Inc.: Magneto is part of EBAY INC. COMPANY (which is no doubt global commerce leader). This great partnership enables Magneto to offer business community a wealth of experience and resources in commerce-related technologies.
Increase Control and your Management over your Online Business: Selection of Magneto E-Commerce Platform for your online store will let you increase control over your business. You can manage the merchandising and associated promotions in an extensive way. The Open Source Business Model adopted and promoted by Magneto allows you to bring forward your products.
Increase your Business Growth Rapidly: Selection of Magneto E-Commerce Platform for your online store management will let you have one of the greatest feature-set about your online store and also flexibility that will obviously enable to increase revenue.
It's cost effective and economical products and services will provide online stores and business to manage your content, its functionality and look and feel in an efficient manner. These services include expertise and all necessary resources that are required to design, build and host an online store. It also provides adequate support, services and training as a follow-up that helps to ensure great customer support. There are lots of different apps and extensions available that can help to make the customer experience more user-friendly and customized.
Comparison of Magento with Others
The e-bay owned Magento platform is among the most popular ecommerce platforms around the world comes with different web-based e-commerce solution versions out of which most prominent and popular are:
Magento Enterprise
Magento Community Edition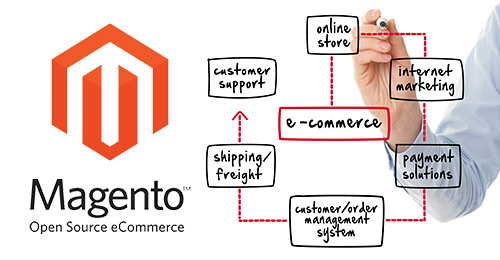 The specialized set of features offered by Magneto really helps the store owners to manage and run their online stores in professional manner. These features are:
Large Hosting Customer Base: Magneto platform hosts over 200,000 online stores. Nike, Overstock Deals, Warby Parker, Paul Smith, Harper's Bazaar are using Magneto eCommerce platforms successfully to market their products and extend their e-commerce business.
Easy to use, Versatile and Flexible Platform: Magneto is easy to use, most versatile and flexible e-commerce platform with a lot of features that can be used to create and run an online store.
Vast Product-lineHandling: Magneto Go Version allows the customers and eСommerce website owners to handle more then 10000 products in an efficient manner.
Mobile Commerce: Magneto offers a wonderful m-commerce based version of platform that is optimized with all the smart phones.
International Support: Magneto provides extensive Multi-Lingual support that is an essential part of online stores serving the international businesses. Magneto also offers support for multiple currencies handling in a convenient way.
Site Management: Magneto allows users to manage multiple stores as well as website from single Administration/ Control Panel. There are all necessary web services (API) available for easy integration among Magento and any third-party application.
Marketing Promotions and Tools: Magneto provides great marketing and promotional features such as flexible coupons (pricing policy) with ability to control to stores, generation and management of customer groups, management of products, and their categories etc.
Product Browsing: Magneto provides extensive management of product specific properties such as possibility of introducing and managing Multiple Images per product, settings related to the Product Image Zoom-in Capability etc. This allows the online store owner to introduce great product browsing properties on their website which will be helpful for its valuable customers while ordering.
Catalog Browsing: Magneto allows the store owner to manage settings related to catalog browsing. These settings include regulating the layered and faceted navigation for products filtering in the form of different Categories on the front end of online store. Also, the specific settings related to the Layered / Faceted Navigation for filtering of products in Search Results can be managed in a convenient way. Store owners can also perform extensive Product comparisons for analysis purpose.
Catalog Management: Magneto allows the store owner to manage settings related to Batch Import and Export of catalog, Google Base Integration, Downloadable/Digital Products, Advanced Pricing support and rules for Special Prices (visit marketing tools) in an efficient manner.
Order Management: Magneto allows the store owner to manage settings related to the ordering of products. Store owner can manage functionalities of 'View, create, edit, and fulfill orders' from admin panel. Owner can also manage the feature that allows to creating one or multiple shipments, credit memos, and invoices per order to allow split fulfillment etc.
Payment: Magneto allows the store owner to manage settings related to Multiple Payment Options Support, Payment Extensions Available, Configurable authorization and capturing of funds.
Pricing Scalable and built-in extensive support for all most popular payment gateways: Magneto platform's architecture is designed and developed in a specialized manner that provides extensive support and integration possibilities with all the most popular online gateways.
Customer Accounts: Magneto allows the store owner to manage settings related to manage Re-orders from account, Downloadable Products and Recently ordered items.
Shipping: Magneto allows the store owner to manage shipping features such as Shipping to various addresses in one order, Multiple shipments per order and handling of Free Shipping offers.
Analytics and Reporting: Magneto provides best analytical and reporting feature accessible from the 'Admin Dashboard' area. This feature includes various useful reports (Best Customers Report by Total and Number of Orders, Abandoned Shopping Cart Report etc.) generation facility.
Flexible in terms of Functionality and Customizable Experience: There are so many customizable extensions and additional add-ons readily available on the extensions page.
Availability of Search Engine Optimization Friendly Features: Magneto is equipped with built-in extensive support related to the SEO friendly features (creation of keywords rich URL, automatic generation of Meta data etc.). But still might need an additional extensions in order to be optimized.
Customer Service: Feature-rich Customer Accounts, Order Tracking from Account. It provides great support system associated to the shopping cart.
So, don't waste any second of your valuable time and think now about the best way to boost your online business. Sign up with Magneto now and start experiencing this great set of business growth all from today.