Sergio Alfaro Lloret tells the story of his online business transformation.

the textile products in Spain.
Q: Tell us about your business, what is it about, how did you get your start?
R:
We are an official distributor of Roly brand, the textile products in Spain. Mainly there are T-Shirts to be personalized with custom designs. We start our business in 1996 and some years later we have started to sell online. Using our firsts custom websites Joomla+VirtueMart this year we are finally migrating to Magento.
Q: What goals you have set up for your business to achieve during next 6 month?
R:
The main goal is to change our e-store platform from Joomla+VirtueMart to Magento and to create a very customized online store designed specifically for our customers needs. As I mentioned before, we are wholesalers, and our customers need a simple search process to find different kind products and to add them to the cart very fast. Actually, we are doing our final steps to implement the t-shirt designer. We asked some Magento developers to adapt their extensions or to develop a new ones for us. We need something like the multicart, so our customers would be able to add many products in the same time to the cart. Would be great to get an extension like your essential extension Sphinx Search Ultimate, one of the best extension that we have installed.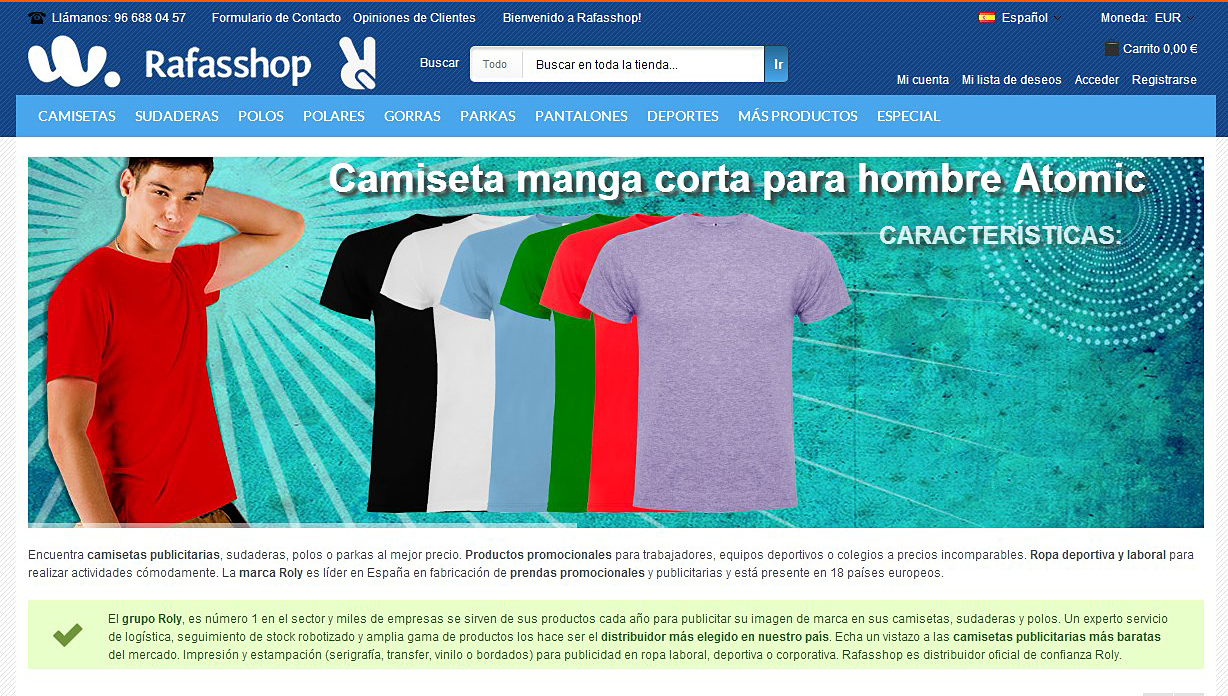 Q: How many people work in your company?
R:
Actually we are 10 employees, 2 more since last year.
Q: Why did you choose Magento as your current platform and how you became involved with it?
R:
Magento undoubtedly is the best open source platform. Here in Spain and Europe the most used platform is Prestashop, because it is more easy to use and needs less resources. But we choose Magento because it has plenty of implemented features like Multistore, that we use to run more stores using the same database using the same control panel.
Q: What was your first impression of Magento?
R:
I am impressed by all the features, but in the same time i am a little bit intimidated, as there are some difficulties to understand how some things work. For instance, how to successfully set up Multistore, how to setup table rates for shipping or how to simply work with VAT, etc. After deep research in forums, blogs, etc, finally I have platform that works exactly as i need. I think that Magento platform developers need to do some changes to make this platform to be understandable for new users.
Q: What extension had the biggest impact on your sales in the last 6 months?
R:
Well, since we have launched our new Magento website, we have been constantly learning what else to be added. We have installed a lot of Magento extensions and most of them are modified, so our customers could use them more easy. For this reason, really I don?t have that much to add. We have 3 the best extensions: Sphinx Search Ultimate extension from you ? is definitely the best, Color Swatch that replaces the Magento dropdowns for understandable colored squares and replaces the payment page for the other one with only one step to checkout.
Q: What is the most powerful Magento extension for you and why?
R:
Probably it is the Sphinx Search Ultimate and I don?t say this because you are the developer. I can explain this very reasonably. As I said before, we are a wholesaler and our customers normally adding a lot of products to the cart. Every order is usualy big and include many different products. So, customers need to be able to find all the necessary products very fast, but default Magento search works very very bad. We were looking for the extension that can solve this problem, and after research and comparing with other extensions, we finally decided to buy your extension to see how it works live. For example, normally customers try to search in plural, for example when they search for ?gorras? (caps)(see an example on screenshot) default Magento search returns no results and the reason is that the word like ?gorra panel 5670? is without the last letter ?s?. The other problem was in common words or numbers. Both problems were solved with your extension, now results appear better than in google :-). We have hundreds of categories in our e-store, and normally customers trying to find products with search engines first, If search returns no relevant results or with too many different not relevant results ? we lose sales. It?s very important to provide customers with relevant search results, it?s important to make them sure that we have in stock all the products they may be interested.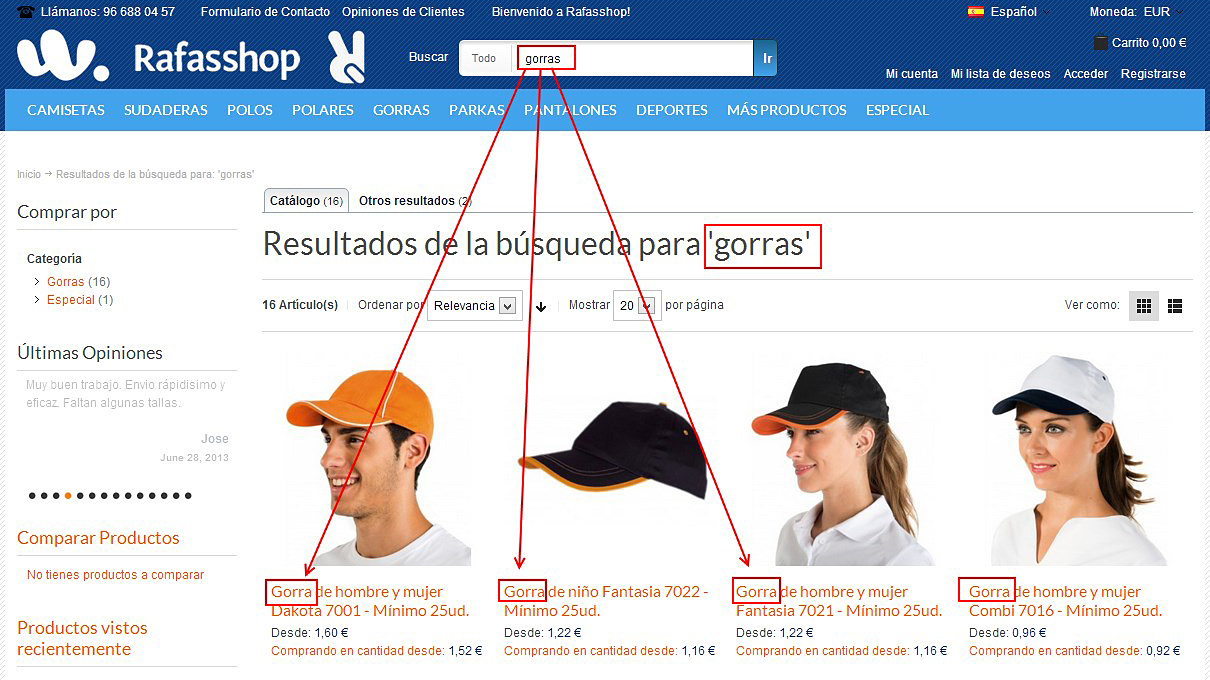 Q: What extension would you like to use in your store any soon?
R:
Actually, we have been developing the t-shirt designer. Where we need a lot of customized options to be displayed, such as: to calculate automatically the price with different customizations techniques and quantity discounts, etc.
Q:
Any recommendations you would like to tell to those people who are currently choosing between different platforms for their business.
R:
If you are about to start a business and you don?t have any knowledge on how to manage online stores and you still don?t have many online orders, probably the ?easy? option for you will be any SaaS platform like big E-commerce, 3dcart, Volusion, etc. or any other easy engine like Wordpress+Woocommerce or Prestashop. But these platforms on my opinion are not the best for serious business. So, If you are aiming to create and run big and serious business, most probably with a time, you?ll discover that you are losing time and money working with ?easy? options. You will need to replace your online platform to Magento. It will provide you with ability to customize many things and provide the best user experience for your customers, easy integration with your ERP.
Q: Why did you choose Mirasvit as the Magento Extensions provider?
R:
We have found your company during the research, when we were looking for the wise solution for search engine results on Magento. There were many other solutions, more expensive and more cheap, but after we saw how works your Sphinx Search Ultimate on your live demo, we had no more doubts. It works perfect in our Magento multistore and works great with both internal and external (Sphinx) methods.
Q: What can you say about Support services provided by Mirasvit?
R:
Well, an extension works great, so we do not need a constant support. We only need some CSS adjustments for our templates. Still as only i send an e-mail with a support request i receive a very prompt reply. The code to modify CSS was provided and without any additional requests to get an access to server. After changing it works perfect.
Q: Anything else you would like to tell?
R:
I only can say: thank you Mirasvit for such a great extension like Sphinx Search Ultimate that provides great customer experience and helps us to keep our sales. The search box is one of the most important thing in any online store. I see that you have other great extensions to optimize the Reindexing process, etc. We are going to buy some of them in upcoming months. Would be great if you could develop a ?Good page cache? extension as the actual extension has some issues. Is there a chance that you guys could potentially create another wonderful extension to fulfill this Magento need ;-) We are happy to offer our customers the best search engine as well as a clear and fast method to add products to the cart. They say, that they can complete orders in more easy manner. Therefore we are happy to hear only good comments on that. Probably, this search system helps to finish orders and find more products and to add to the cart.
Thank you very much!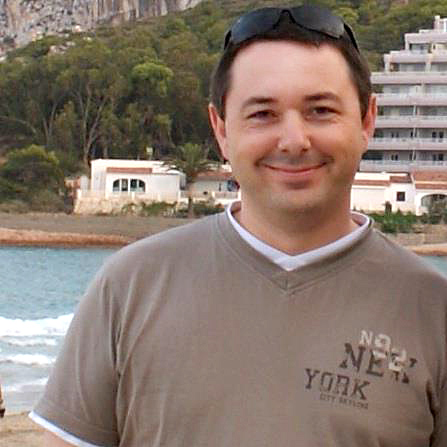 Sergio Alfaro Lloret
Webmaster en Rafa?s Textiles S.L.