Your existing customers are one of the primary sources for your future customers; so why not reward them. The question is how can you make your customers return for more over and over again and boost your sales as a result? This is the challenge that we will help you overcome by the end of this article.
If done the right way, rewards and loyalty programs can help you develop a stronger relationship with your customers and create the bond that will keep them coming back for more.
First of all, let us explain some of the basics of the loyalty programs. There are four main objectives that such programs are targeted at:
Increasing the number of loyal customers;
Bumping existing loyal customers into a higher paying group;
Improving marketing and business operations based on the feedback gathered from the program.
Boosting sales
There is a steep line though…
Your success through rewards and loyalty programs highly depends on how good you will be at finding the golden middle between new and loyal customers. This is the part where you ask yourself aren't they more expensive than the new ones?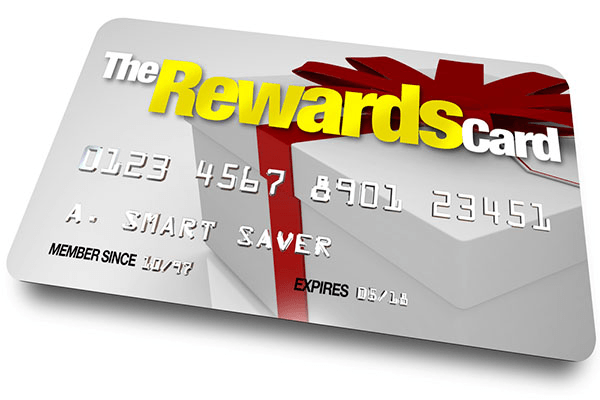 Here is how Loyalty Program works:
Loyal customers are the ones who have already proven their commitment and value to your eCommerce. Yes, the profit on the next sale may not be as high, but you are going for a customer that will keep on returning for years to come.
Rewards and loyalty programs has nothing to do with doing a lot of research on which of your customers deserve the title of "the loyal ones" and handing out free merchandize. In fact, one of the greatest benefits of the loyalty programs is that you can collect various data that can help you with identifying profile of your customers.
You can easily recognize your loyal customers through their profiles and actually starting the program is even less troublesome.
The research has shown that acquiring a new customer is 5-10 times more expensive than selling to an existing one! In addition to that, loyal customers tend to spend 67% more than the new ones.
Let's have a look at some of the most recent statistics to understand more about the usefulness of the programs. 65% of the marketers have already implemented a loyalty program on their eCommerce. What are you going to do, wait for the number to go up or take action now?
Colloquy ? Since 2010 to 2012 the number of loyalty programs has increased by 26.7% in U.S.
Colloquy – Since 2010 to 2012 active membership in U.S. loyalty programs has decreased by 4.3%
ClickFox – 62% of the customers doubt that the companies they are loyal to value them enough.
ClickFox – 54% would increase their sales with a company offering loyalty rewards; 46% already have done so.
Acxiom – 50.4% of companies have trouble identifying their loyal customers.
Choose your strategy:
When it comes to increasing loyalty of your customers there is no one strategy that fits all. There are some of the most popular options though:
A simple point based system – this is one of the most common loyalty programs nowadays. Your loyal customers earn points though performing various actions on the website. These points can be translated into various types of rewards; it can be a discount, special customer treatment, free product, etc. Whatever you choose make sure that you keep the conversions simple; no one is up for a headache with all the calculations.
A Tier system – such system gives you an opportunity to reward initial loyalty and encourage the next visits. You can offer your customers small rewards for being a part of the program and increase the prize as the customer gains more value and moves up the loyalty level.
Gamification – everyone enjoys a game now and then. You can use simple games to turn your loyalty program into a fun activity. Keep the purchase requirements reasonable and odds higher than 25% to make it work.
VIP benefits – this program is a little different from the other ones as it suggests charging your customers a one-time or annual fee for some VIP benefits.
Partner Companies – loyalty programs can also be based on strategic partnerships, also known as coalition programs, to provide all-inclusive offers.
Gift cards, travel miles, upgrades, etc…
So, how do you get started?
In order to plan your further steps you should ask yourself the following questions: What would your customers love to get as a reward? Is it a coupon or a special discount on their next purchase? What about an email notification about upcoming big deals which will keep them informed before everyone else? What is your target market? Who are your most loyal customers?
Once you know the answers to the above questions, you will notice that a general idea of the rewards and loyalty program is slowly shaping on its own.
While there are lots of different ways to incorporate loyalty programs at your eStore, it is no use without a well-thought-out plan. Now that you have an idea of what your program is going to be like you should now some basics that will help you put it all to reality. The right use of rewards and loyalty program has the power to transform your business into a customer-centric profit machine.
There are certain tips that every marketer should keep in mind when deciding on their rewards points extensions.
1. First and foremost, it should allow you to reward your customers for any action they might perform at your store, not only for purchase. These rewards can be redeemable points which can be used as discounts or whatever other benefits your eCommerce is planning for them. It is crucial that you create a unique loyalty program to fit the requirements of your eCommerce and customers. This can even become your primary way of converting your visitors into loyal and profitable customers who will become your brand advocates in no time, bringing in more and more potential customers and increasing your sales.
2. Via rewards programs you can also offer your customers discounts, free items, free delivery or some exclusive items that they can purchase only using the earned Points.
3. You have to decide how many Points your customers should earn for each amount of money they leave in your store and set how many Points they are able to spend.
4. They should also be able to redeem points for discounts based on the conversion rate you set.
5. Points can be set at the product, purchase, category, shopping cart etc.
6. You should have the power to easily control the maximum discount available when your customers spend their Points.
Mirasvit's module for customer rewards and loyalty programs for Magento based eCommerce is the easiest extension that there is on the market nowadays. You can set it up and have it running in few easy steps. You can also customize it on your own at all times.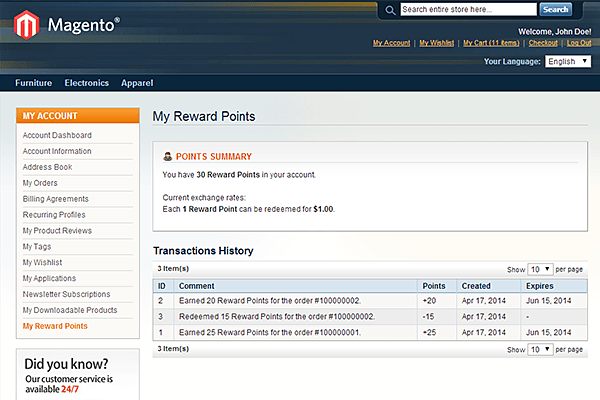 Let's have a quick look at the benefits you can get from the Rewards Point extension:
Features for administrators:
You can reward customers with different number of Points for different actions.
You are able to control and quickly adjust the Points balance for a customer.
You can assign Points to both: individuals and to a group of customers.
You are able to set up the validity terms of the Points and notify customers in advance that Points are about to expire. It will encourage them to make a purchase in your store with existing points.
Reward options are available when Customer:
Rates a product
Signs up
Votes in poll
Sends product to friend
Signs up for a newsletter
Tags a product
Writes a review
Features for customers:
The information on earned Points is displayed on the product page and on the cart/checkout page;
Customers have personal accounts;
Customers have access to the earned Points that are available on their account;
Customers have access to the transactions on spent Points at all times.
A great ecommerce loyalty program should be shaped around your store's special needs and your customers' interests. It should provide you with all the required features and bring value to your customers. This is what will keep your customers coming back for more for many years and keep your sales at top.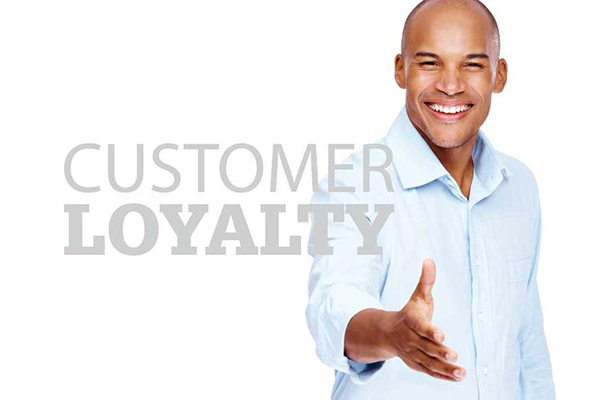 We have told you everything that you need to know about the rewards and loyalty programs to start a successful one for your eCommerce. Just tell us your idea and we will help you with bringing it to life as soon as possible!