Push Notifications for Magento 2
Notify your customers directly through their browsers with our Push Notifications Extension.
This extension gives you the ability to contact your customers in a new way.
Your customers can read your messages immediately they have been sent, this is because they will no longer be buried in their email's inbox, and you can deliver your messages to them quickly.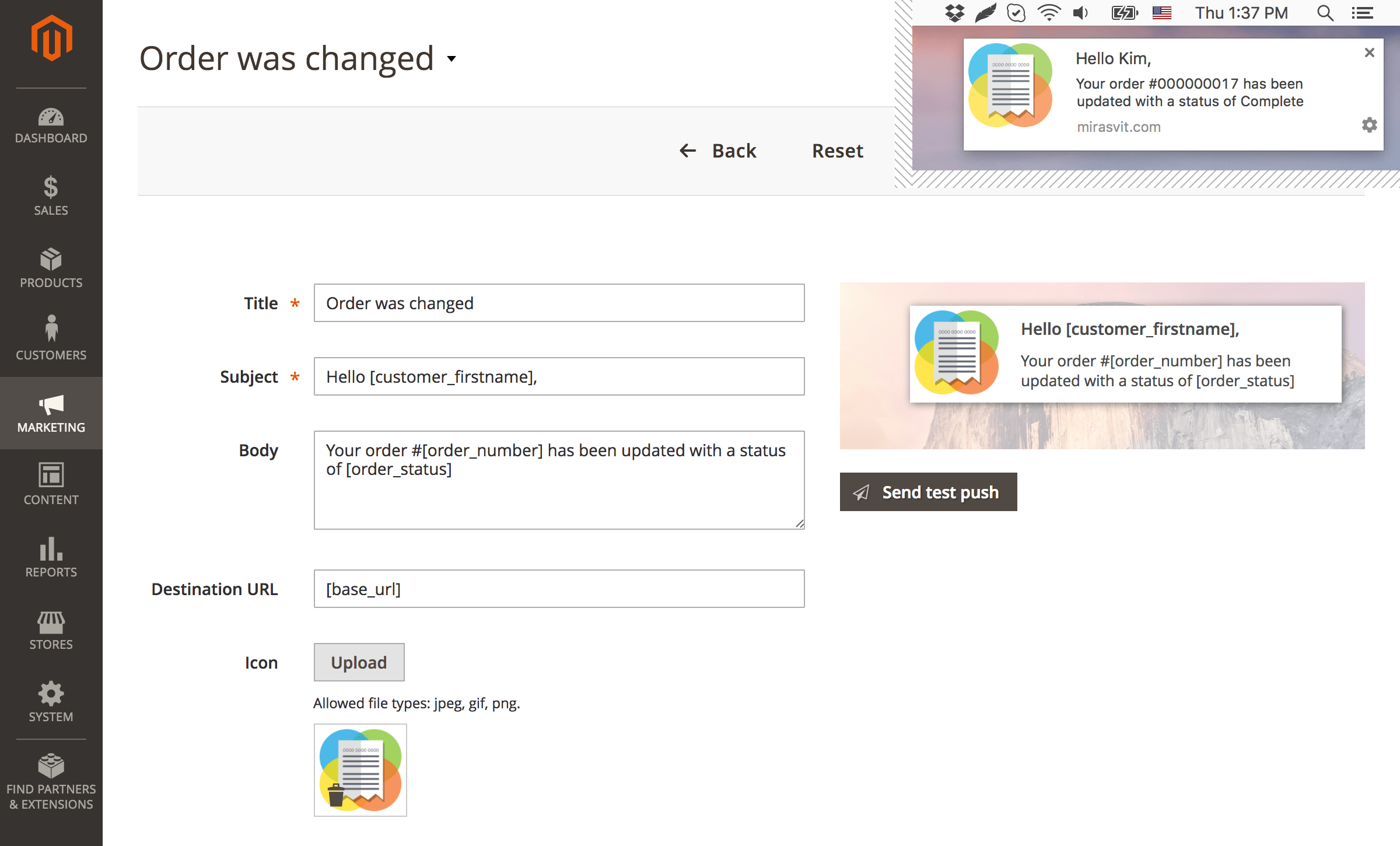 1/5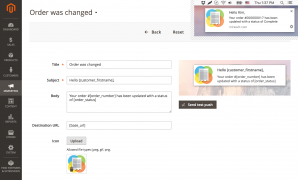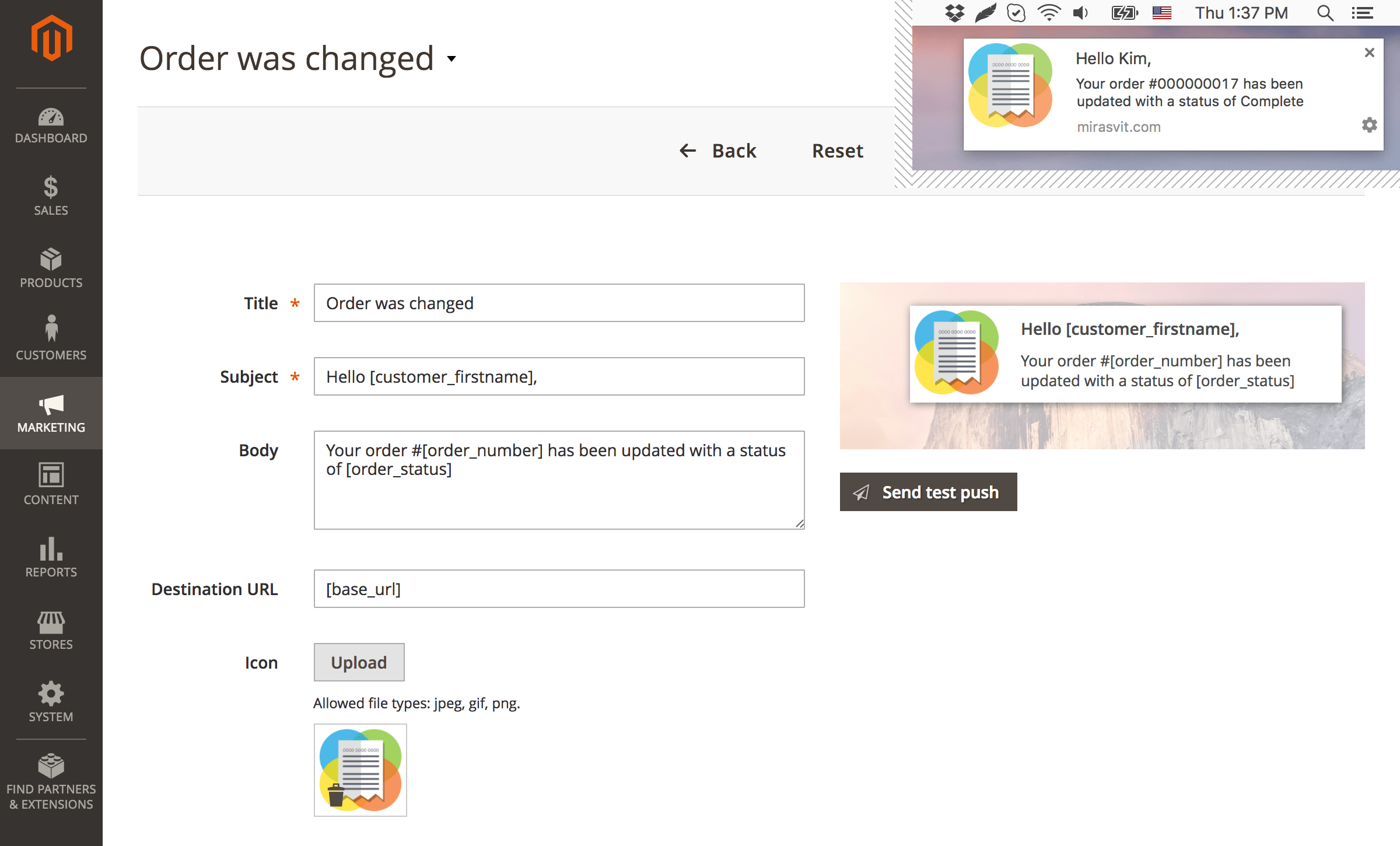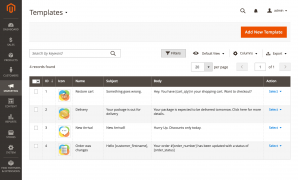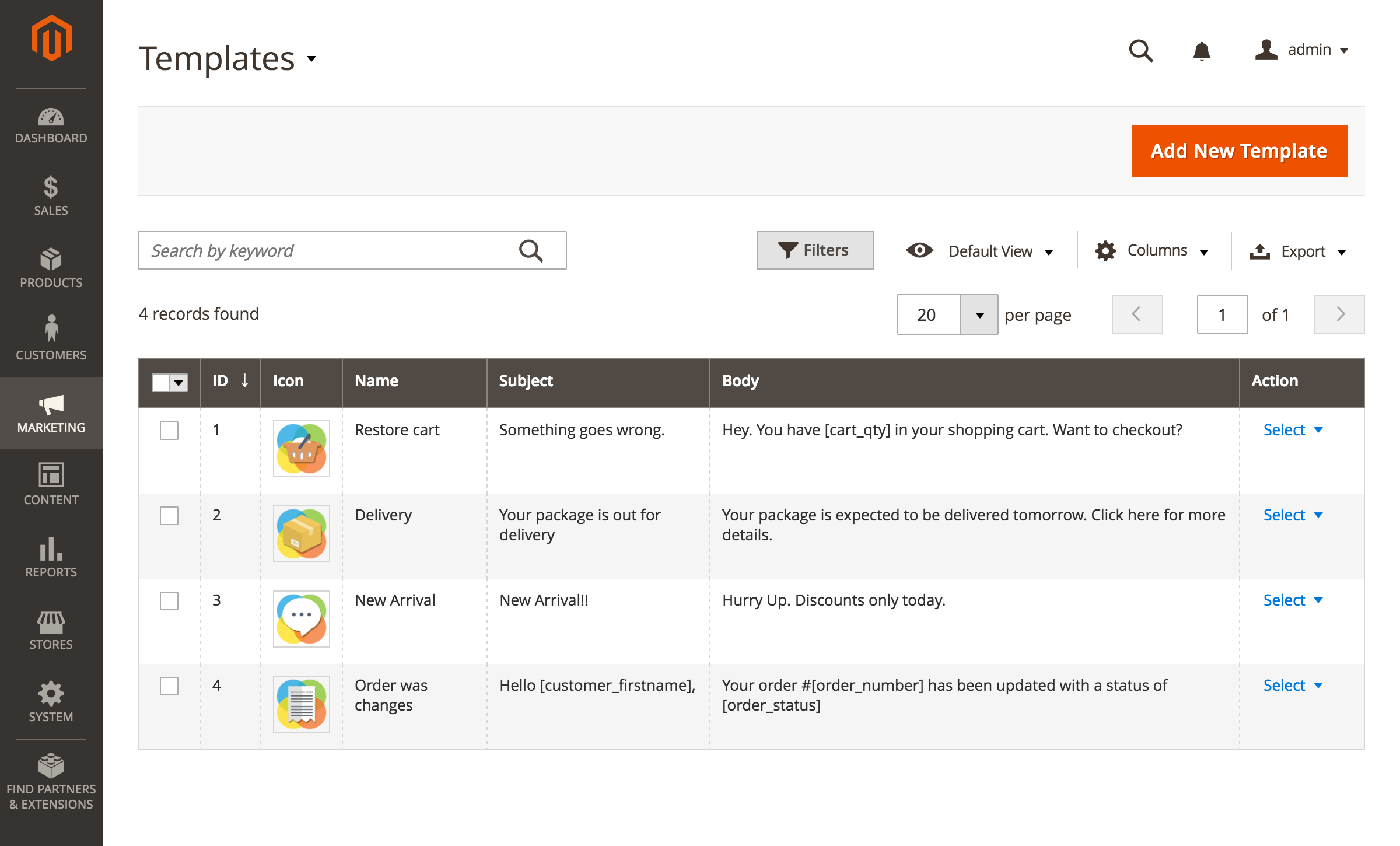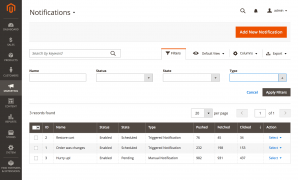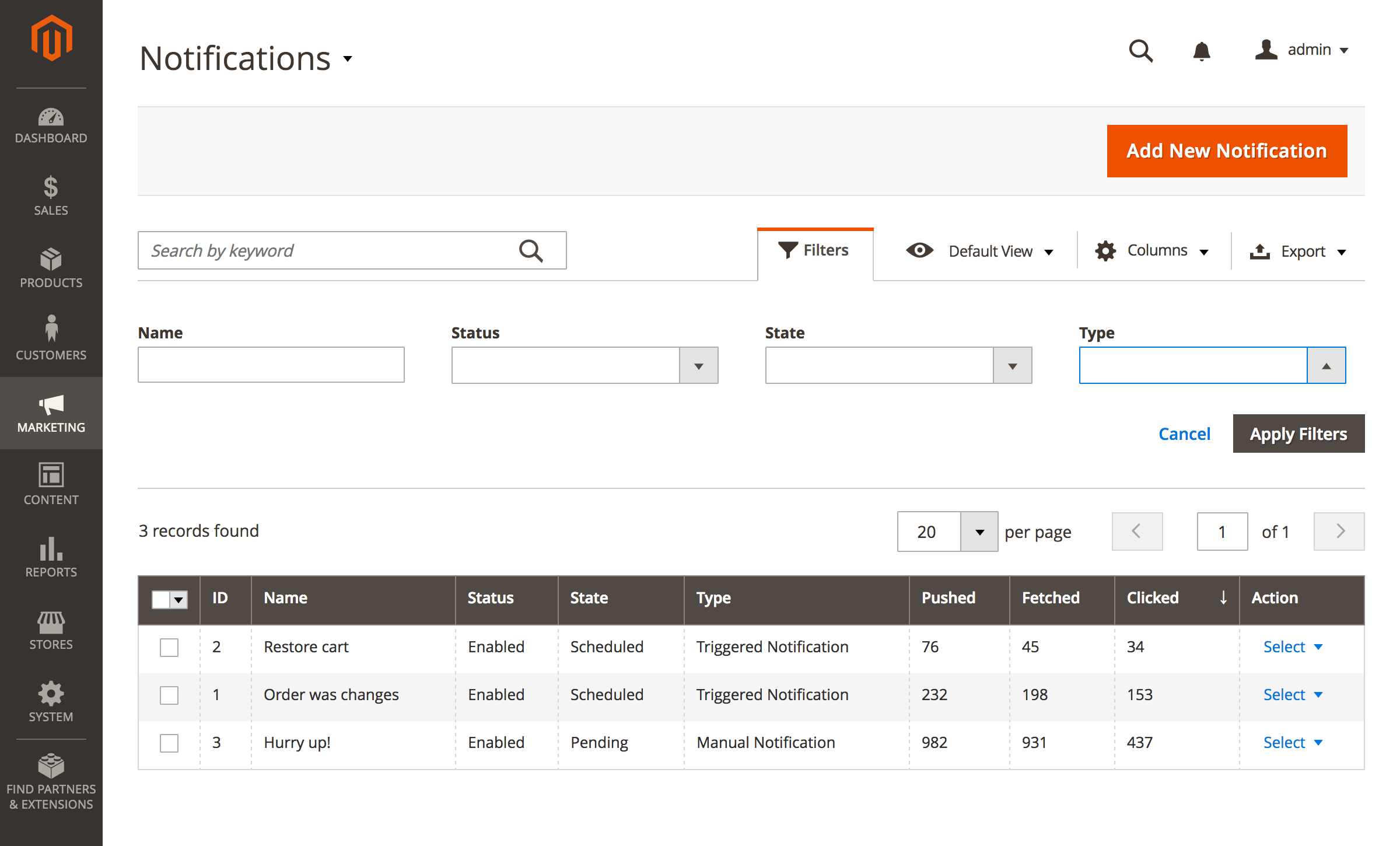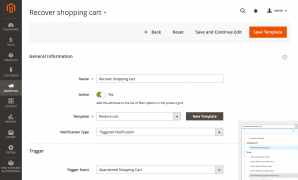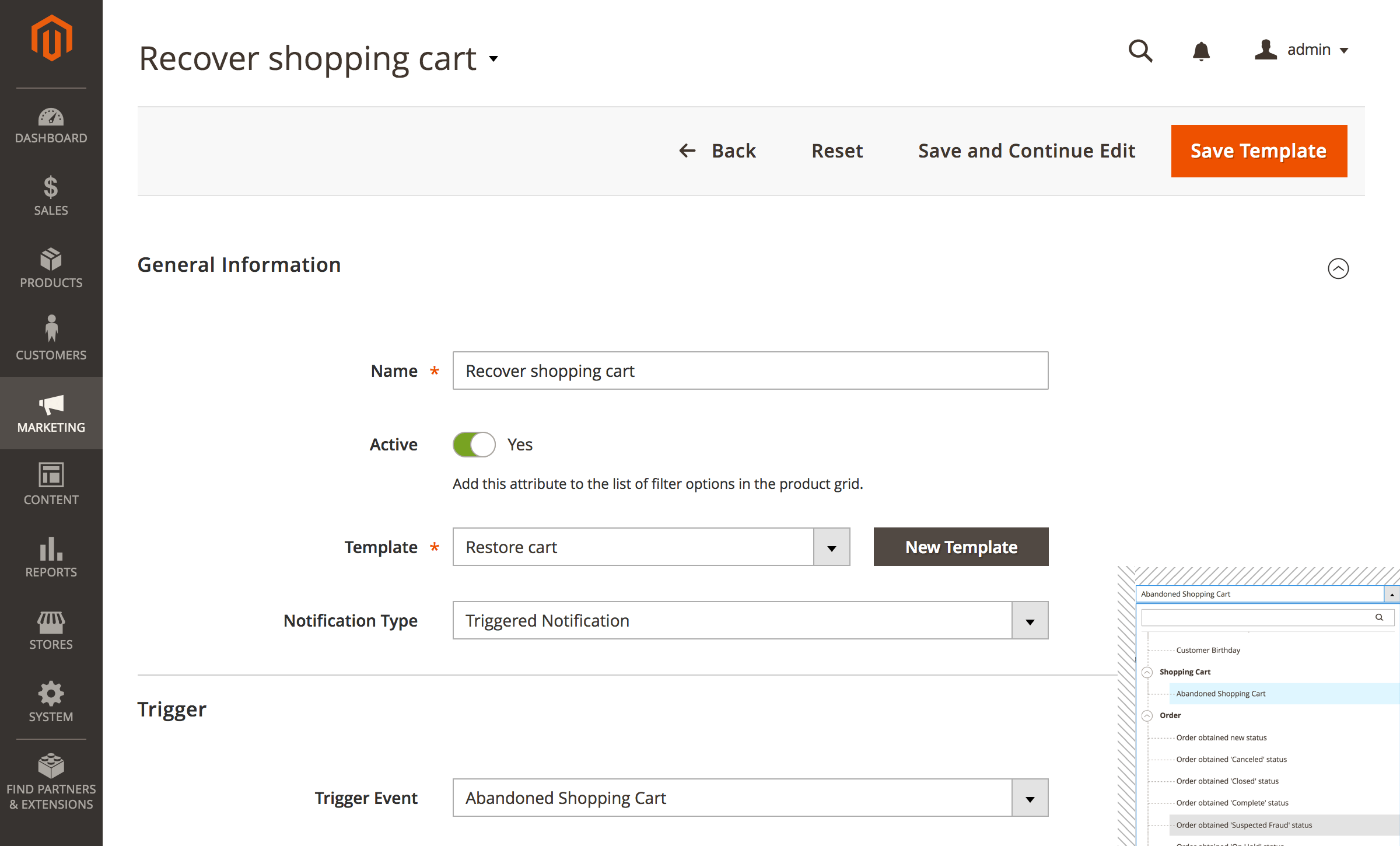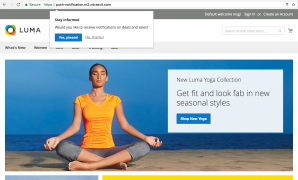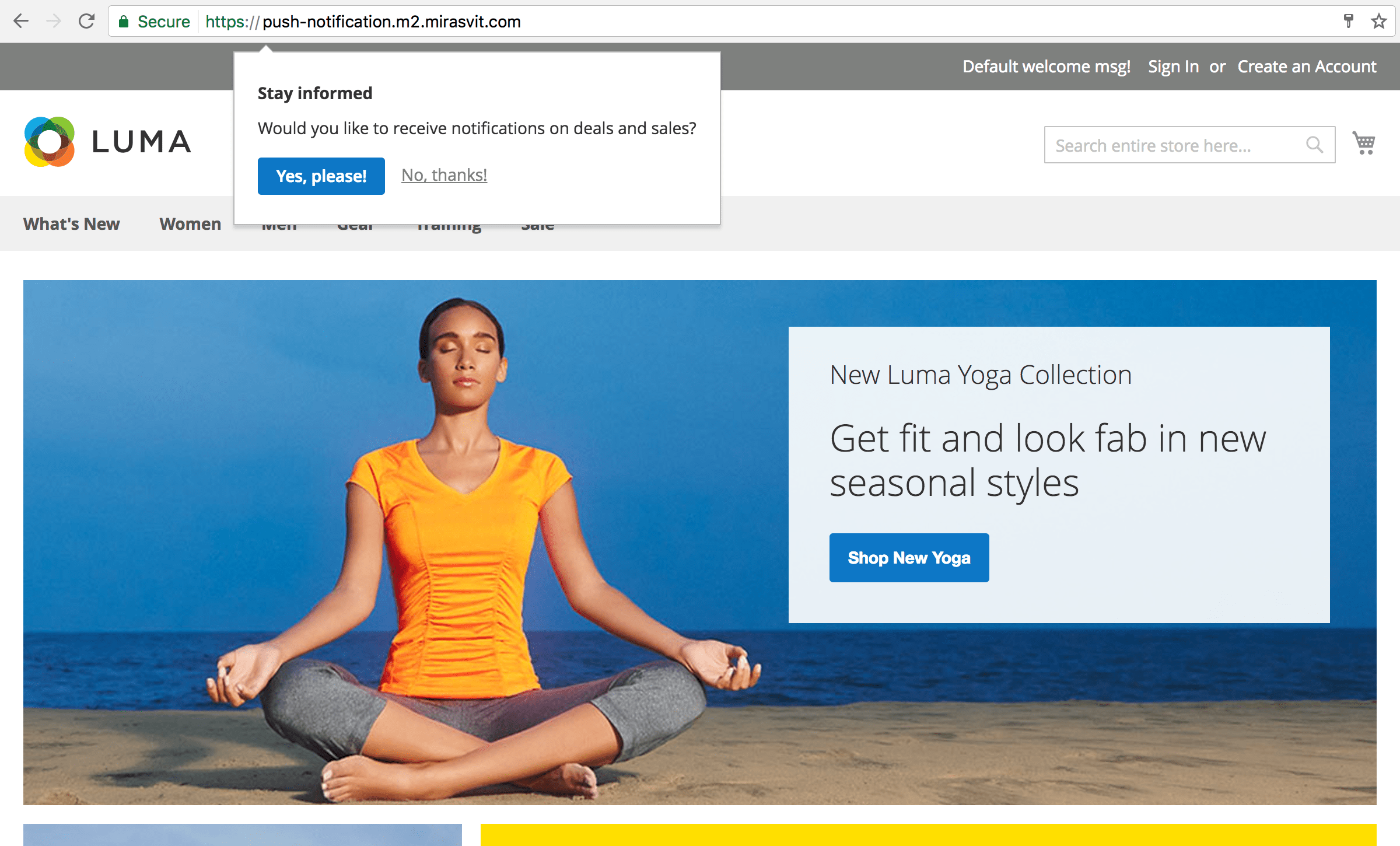 Feature Highlights
A web-push notification is a message that a site shows to its customers. To get this message, the customer has to click on the "Yes" button in the browser popup. By doing this, they have subscribed to any future push notifications from your store.
The great thing about this is that your customer does not have to keep your site open to receive these notifications. They can close the tab of your site, and still receive these messages, as you can still send them these messages.
Even if the computer is turned off, these messages will be received right after turning it back on.
Web-push notifications have a lot of advantages compared to a follow-up email, and they are:
They are very easy to subscribe to.

All you have to do is click the "Yes" button on the subscription invitation.

Web-push notifications show up right after sending them.

Unlike emails which are usually not read right after the recipient gets them. Also, some emails can go to spam and will rarely be read.

Web-push notifications have ** ten times more CTR** than a usual email subscription.
Our extension allows a Magento store to show web-push notifications to its visitors or customers using our predefined rules.
Notifications work on Chrome, Opera, Firefox browsers, desktop, and mobile devices.
After entering the site, a customer will get a browser pop-up with an offer to subscribe.
This extension will automatically link the customer's subscription to the customer's account (if they are registered), and then they will get notifications according to the set rules.
---
Notifications based on Rules configured for different events
You can create a rule that comes with a message to a particular customer according to different conditions.
For example, you can offer a discount coupon to a customer who has abandoned their cart 5 hours ago with more than a $500 order. Or send a review reminder after purchase.
The extension allows you to create different rules for different tasks flexibly.
Rules can be based on the following events:
Customer related events (logged in, subscribed to the newsletter, etc.)
Shopping Cart related events (abandoned cart)
Order related events (status events)
Wishlist related events (shared or product added)
---
Manual notifications
You can manually create notifications for all your subscribers or a particular group about the beginning of a new promo, an important event, etc.
Your customers will see it just a few minutes after you must have sent it.
See it in action!
Pick a quick tutorial to learn about various aspects of this extension
Great extension great support and features. So far all works very well.
Thank you Mirasvit!
Superiour to competitors but with improvement potential
HappyMagento
from Nairobi, Kenya
This extension does offer by far the most options and features compared to other extensions providers offering push notification integration for magento.
However I do see improvement potential. Integrate time zones support that people get push notifications not at night while sleeping.

Also an interaction with the customer segmentation would be great to allow send targeted push notifications.
kingkk7
from Ilford, United Kingdom
Hi I've used this extension for a little while and it works great,
i would love it if it had the hero images sent also, like the bigger images you receive sometimes from push notifications
I suggest it 100% working
Brandlive
from Buenos Aires, Argentina
bought it and works fine!
Allan
from Shepperton, United Kingdom
this extension compared to all other extensions from different companies my best experience was with Mirasvit I never ever had to open a ticket to get technical support on extension.
Esajee.com
from Islamabad, Pakistan
There was some issue but support fixed it quickly and extension is dense cover maximum cases
vittorio
from Milan, Italy
Powerful, effective but simple to use and configure. A truly unmissable module. No installation problem on magento 2.1.6. It works perfectly on smartphones and tablets.
Shaheer
from Islamabad, Pakistan
Hi there, I've purchased two extensions first it was follow up email extension and then this one Magento 2 web push notifications, I've only 2 months of experience with Magento 2 but still with that little knowledge I was able to install these extensions without any errors, these extensions work like a miracle. Compared to all other extensions from different companies my best experience was with Mirasvit I never ever had to open a ticket to get technical support on extension. When it comes to functionality Mirasvit extensions have all you need.
I'm really glad I found them somehow.
Good way to contact customers without sending them mails
Manual & Support
Need more help?
Save time by starting your support request online and we'll connect you to an expert.
Contact Us Now
We found other products you might like!
Live customer feedback
Latest comments
Michael Sandström
Sep 24, 2020
Best support, keep up the good work!
Galeria LueLue
Sep 23, 2020
Thank you <3
See all comments
The real-time results of the satisfaction survey of our customers
for the last 100 responses
Reasons to choose Mirasvit
Client focusing and satisfaction
It is our main goal. A big part of our new clients come from referrals from our existing clients. Our professional team of developers, marketers and support invest the best knowledge and experience, so you could come back to us again and again.
Remarkable support
90-days free and high quality support. We make an effort to satisfy you with work of every module you have purchased in our store. Helping you with installation, configuration, answering your every question, we do all our best to eliminate any possible problems.
Risk-free Investment
30-days money back guarantee. If you are not satisfied with work of our extension for any reason we provide a full refund.
Constant improvements and upgrades
We provide you lifetime free updates. We constantly add new features to all our modules. We are absolutely interested to hear your opinion and to implement your suggested features in our future developments.
Comprehensive Documentation
We provide an expanded user guide for every our extension, so you can find answers for all your burning questions.
Unencrypted source code of our products
You can customize extensions according to your needs and requirements.
Usability and Performance
Module is easy to install and easy to upgrade, just follow step by step our user guide.
Safe Magento updates
No core modifications. Just copy extension files to store root directory.