 Notify your customers directly from their browsers with our Push Notifications Extension.
This extension gives you the ability to contact your customers in a new way.
Your customers will be more likely to read your messages because they will not be buried in their email inbox and you will be able to deliver your message to them quicker.
Extension Demos
Pick a quick tutorial to learn about various aspects of this extension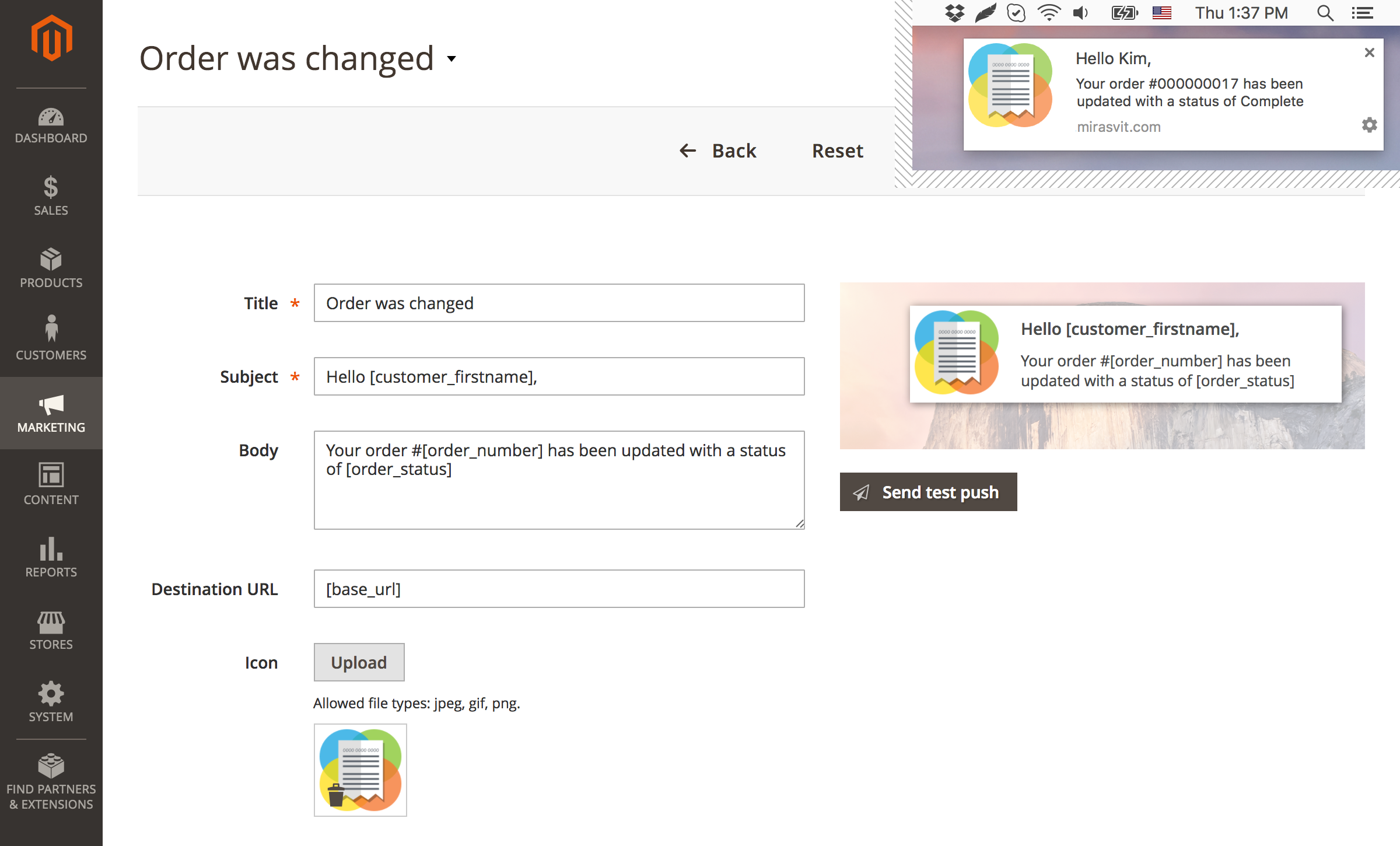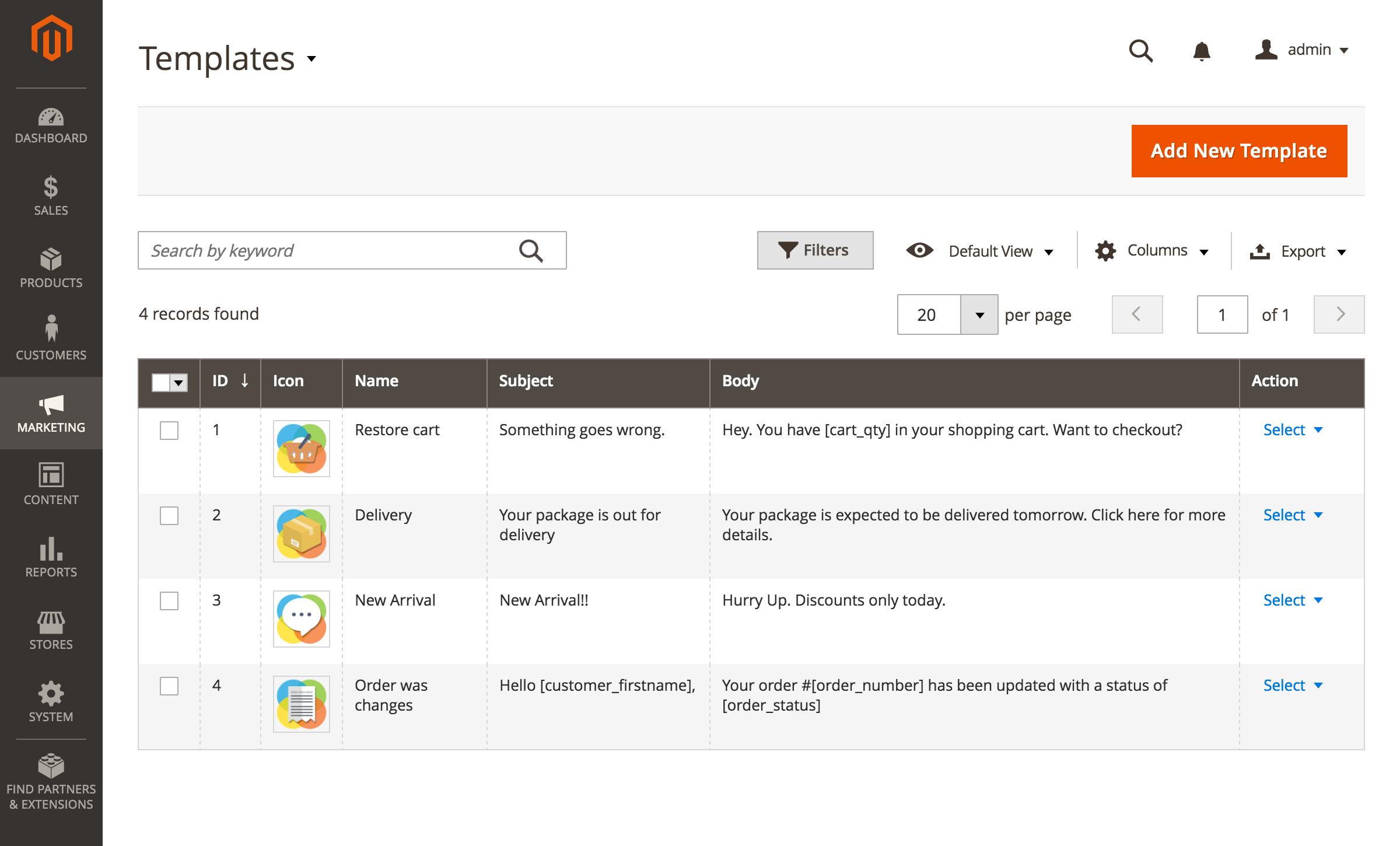 A web push notification is a message that a site can show to its customer. To get the message, the customer just once has to click "Yes" in the browser popup. By doing this, they will also be subscribed to any future push notifications from your store.
The best thing, is that your customer doesn't have to keep your site open to get the notifications. They can close the tab of your site and you can still send them messages.
Even if the computer is turned off, the messages will be received right after turning it back on.
Feature Highlights
Web-push notifications have a lot of advantages compared to follow-up emails:
They are very easy to subscribe to.

Just click the "Yes" button in the invitation for the subscription.

Web-push notifications show up right after sending them.

Emails are usually not read right after getting them. Also, some emails can go to spam and will rarely be read.

Web-push notifications have 10 times more CTR than usual email subscriptions.
Our extension allows a Magento store to show web-push notifications to its visitors or customers using predefined rules.
Notifications work for Chrome, Opera, Firefox browsers, desktop and mobile devices.
After entering the site, a customer will get a browser pop-up with an offer to subscribe.
The extension will automatically link the customer's subscription to the customer's account (if they are registered) and then they will get notifications according to the set rules.
---
Notifications based on Rules configured on the basis of different events
You can create a rule that will show a message to a particular customer according to different conditions.
For example, you can offer a discount coupon to a customer who abandoned their cart 5 hours ago with more than a $500 order. Or send review reminder after purchase.
The extension allows you to flexibly create different rules for different tasks.
Rules can be based on the following events:
Customer related events (logged in, subscribed to newsletter, etc.)
Shopping Cart related events (abandoned cart)
Order related events (status events)
Wishlist related events (shared or product added)
---
Manual notifications
You aslo can manually create notifications for all your subscribers or particular groups about the beginning of a new promo, an important event, etc.
Your customers will see it just a few minutes after you send it.
See it in action!
Pick a quick tutorial to learn about various aspects of this extension
Great Extension!

Great extension great support and features. So far all works very well.
Thank you Mirasvit!

Superiour to competitors but with improvement potential

HappyMagento

from Nairobi, Kenya

This extension does offer by far the most options and features compared to other extensions providers offering push notification integration for magento.
However I do see improvement potential. Integrate time zones support that people get push notifications not at night while sleeping.

Also an interaction with the customer segmentation would be great to allow send targeted push notifications.

great extension

kingkk7

from Ilford, United Kingdom

Hi I've used this extension for a little while and it works great,
i would love it if it had the hero images sent also, like the bigger images you receive sometimes from push notifications

Great product

I suggest it 100% working

awesome extension

Brandlive

from Buenos Aires, Argentina

bought it and works fine!

Push Notifications

Allan

from Shepperton, United Kingdom

this extension compared to all other extensions from different companies my best experience was with Mirasvit I never ever had to open a ticket to get technical support on extension.

Awesome extension

Esajee.com

from Islamabad, Pakistan

There was some issue but support fixed it quickly and extension is dense cover maximum cases

mandatory extension

vittorio

from Milan, Italy

Powerful, effective but simple to use and configure. A truly unmissable module. No installation problem on magento 2.1.6. It works perfectly on smartphones and tablets.

Excellent extension

Shaheer

from Islamabad, Pakistan

Hi there, I've purchased two extensions first it was follow up email extension and then this one Magento 2 web push notifications, I've only 2 months of experience with Magento 2 but still with that little knowledge I was able to install these extensions without any errors, these extensions work like a miracle. Compared to all other extensions from different companies my best experience was with Mirasvit I never ever had to open a ticket to get technical support on extension. When it comes to functionality Mirasvit extensions have all you need.
I'm really glad I found them somehow.

Good One

Good way to contact customers without sending them mails
Compatibility
The Push Notifications for Magento 2 is compatible with:
| | |
| --- | --- |
| Magento 2 Community Edition (CE) | 2.0.* - 2.3.* |
| Magento 2 Enterprise Edition (EE) | 2.0.* - 2.3.* |
| Magento 2 Cloud | + |
Have a question? Ask our support team
Need more help?
Save time by starting your support request online and we'll connect you to an expert.
Contact Us Now
Refund Policy
All customers can request a refund during 30 days after purchase of our software, if customer think that our software is not suitable for any reason. To request refund, customer must remove all copies of our software from its store, servers, computers, email, etc and confirm by email such removal. After receiving a request we will proceed refund within 3 business days.
If request for refund is received after 30 days after purchase, it will be rejected. Cost of installation and customization services are not refundable.
Support and bug fixing
Mirasvit offers free 90 days support of all software sold on this site. Customers can report all bugs, which were found in our software. We can solve only the bugs directly related to or caused by our extension. Those bugs must be reproduced on fresh Magento installation without any 3rd party plugins. We will solve that bugs in order of our development plan.
We don't do any type of custom work and we have a right to reject a support request if the issue is store-specific (cannot be reproduced on the fresh Magento installation without any 3rd party plugins).
Mirasvit will not be liable to you for any damages (including any loss of profits/saving, or incidental or consequential) related to our support service caused to you, your information and your business.
Software updates
Mirasvit offers free lifetime updates if they areavaliable. Updates are limited to the Magento version branch (1.x.x or 2.x.x). Customer can download an update and install it by himself. If support period is expired, Mirasvit.com can't solve any possible problems with our software during or after updating. Mirasvit does not guarantee that it will release updates for any product.